If you are in need of an Uzbekistan passport photo or visa photo, Reload Internet is the best place to come. Based in Paddington, we are a professional passport photo studio that has been in operation for well over a decade. We capture, print and cut hundreds of passport and visa photographs every single week, including Uzbekistan passport and visa photos. We are open every day of the week, early morning until late evening, and are situated less than a 30 second walk from both Paddington tube station and train station. This makes us the most reliable and accessible studio in London for you to have your Uzbekistan passport photo or visa photo capture, printed and prepared at.
No appointment is needed, just stop by and a member of our trained team will assist you. We will take your photo with the correct background and lighting required, and cross-check it with the Embassy of Uzbekistan's guidelines on passport and visa photos to guarantee that it will pass first time. After we are happy that it will pass, we will print your set of photographs and cut them to the exact sizing so that they are ready to be sent off with your application. That is why we can guarantee that your Uzbekistan passport photo or visa photo will be successful! All of this for just £9.99!
If you want to learn more about the criteria in regards to passport and visa photos for Uzbekistan, or want to see how we can produce yours succesfully, watch the video below:
If your Uzbekistan passport photo or visa photo fails to meet all of the requirements below, it will probably be rejected by the Embassy when you submit your application. Come to Reload Internet to ensure that this does not happen to yours!
Uzbekistan Passport Photo and Visa Photo specifications: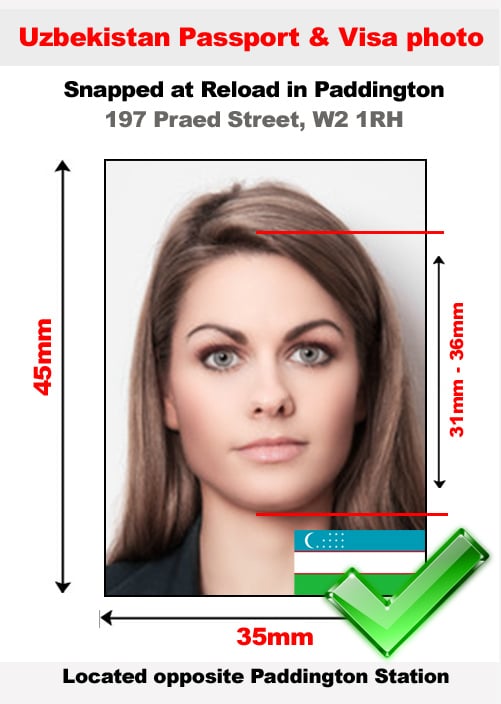 Photos Required: 8
Spotless on every side, no crinkles or waterworks
A close-up of your full face as well as your shoulders
Looking straight in front of the camera with your face forward
Have both eyes wide open, noticeable and clear from replication or glare from glasses
No hair in front of your eyes
Covering your face is unacceptable
You have to capture the photo with an impartial expression and a closed mouth. You should not be laughing, smiling, glaring or flaunting your teeth. Both the eyes should be open as well as artificial expressions like eyebrows raised or glancing are highly unacceptable.
The head of the subject must not be at any angle nor portrayed style. The head should be looking straight and square to the camera; Tilted or slightly rotated face is unacceptable. Your face and eyes must be looking straight at the camera so every amount of ear and cheek can be noticed easily.
When the photo is taken from a digital camera it is advisable to print the photo on a first-class paper with a print resolution of 600 dpi. The color of the photo must be neutral and the tones of your skin must look real and natural. Creases or impurities on the photo are not acceptable. The photo cannot be photoshopped, edited or manipulated, for instance, by eradicating spots or unstiffening lines. The photograph should be a colored copy.
Your photo will be guaranteed passed in case you avoid wearing glasses. In case you cannot avoid wearing glasses, then make sure the glasses that you wear have no glare and the frame must not cover your eyes. The applicant's eyes must be clearly recognizable (glass reflections, colored glasses or shades are not allowed).
Normally speaking, headwear is not permitted. An exception could be for reasons related to religion or medical care. In such instances the customers face should be visible from the chin till the top of the forehead. The photo should not contain any shadows and should not be out of focus.
No smiling face and no showing teeth
No hardware except for religious or any other medicinal reasons
The face must be highly focused and it should look pleasant, rich in contrast and flawless.
Our specifications are taken from the Embassy of Uzbekistan's guidelines on passport and visa photographs which you can see here.
Passport Photo printed in London