A5 Photocopying will never be quicker or easier than at Reload Internet in Paddington, London. Look no further than us if you need a fast and reliable photocopying service. Our friendly staff are highly capable and know how to handle every one of your photocopying requirements.
We deal with a great number of clients everyday and so we're well versed in all the common scenarios in which photocopies may be required. Our A5 Photocopying service is perfect for greeting cards, small documents and flyers.
Please watch our video below, about our in store photocopying service in Central London.

On the spot A5 Photocopying in store
The table below details the prices for our photocopying services in our store in Paddington:
Paper Size
Black and White
Price (per side)
Colour
Price (per side)
Premium Paper
(Add-on per page)
A4
£0.75
£0.75
£0.50 - £0.99
A3
£0.75
£1.25
£0.99 - £1.99
A5
£0.75
£0.75
£0.50
We use 80 gsm paper as standard, but we have a large variety of premium papers in store if you need to make an impression with a CV or other specialised document.
If you require a large volume of photocopying then we are perfect for this job, contact us now to get started
Why choose Reload?
At Reload Internet we offer a quick and efficient A5 photocopying service in black and white or colour. Furthermore, we are very familiar with procedures for photocopying documents for government submission, such as copying ID documents for a visa or passport application.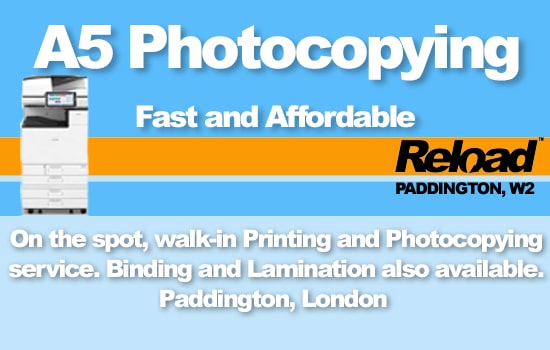 We can photocopy single or doube sided documents in both black and white or colour and can also copy both sides of a document on the same sheet of paper. If you need to scale documents to bigger or smaller sizes, we are proud to offer this service as well.
Additionally, we offer a 10% Student Discount. Just mention this website and present our staff with a valid Student ID in store and we will happily apply it.
Whatever your requirement, at Reload Internet, we have you covered!
Other services available at Reload:
Please click on the image to learn more.
     
A5 Photocopying on the spot in Central London
We look forward to welcoming you for all your photocopying needs at Reload Internet, in Paddington, London.
Please call us on 02072624111 if you have and questions or email us at: