A5 Printing at Reload Internet is so easy! You can walk into our branch in Paddington and print in A5 in colour or black and white. We are open late every day, including weekends. You can print your documents from an email, webpage, your mobile phone, or USB.
Our customers find our quick and affordable service perfect for printing anything from flyers for their latest marketing campaign to personalised greeting cards on premium cardstock. We also offer a high volume printing services with premium cardstocks and papers available for your every need.
Please watch our video below about our printing center in Paddington, London:
A5 Print and Photocopy Services available in store:
The tables below summarise our printing and photocopying prices.
Black and White, Colour Printing:
These prices are for printing 1-25 pages, if you need to print a large number of pages you can view our high volume printing prices here.
Paper Size
Black and White
Price (per side)
Colour
Price (per side)
Premium Paper
(Add-on per page)
A4
£0.25
£0.75
£0.50 - £0.99
A3
£0.75
£1.25
£0.99 - £1.99
A5
£0.25
£0.75
£0.50
Photocopying: 
Paper Size
Black and White
Price (per side)
Colour
Price (per side)
Premium Paper
(Add-on per page)
A4
£0.75
£0.75
£0.50 - £0.99
A3
£0.75
£1.25
£0.99 - £1.99
A5
£0.75
£0.75
£0.50
If you require a high volume of A5 colour or black and white printing – hundreds or thousands of pages – please email us for a customised quote now
Why choose Reload?
Reload Internet offers a fast and affordable A5 printing service in an unbeatable location. We offer printing and photocopying on the spot and have binding and lamination facilities. We are open 7 days a week and have long working hours even on Saturday and Sunday.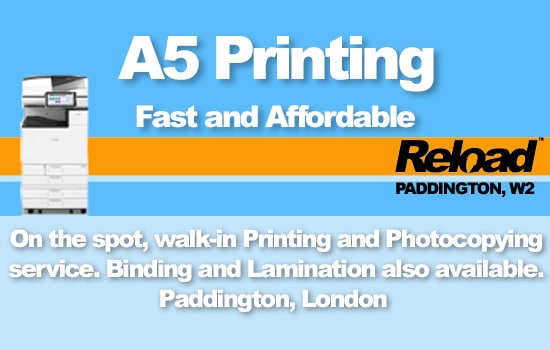 Our large variety of papers and cardstocks have you covered for all your printing needs and we can offer discounts for large volume printing jobs.
So why wait, email us now for all your printing needs!
Business A5 Printing
We have Professional Ricoh and HP presses and printers in Reload Internet which allows us to offer fast and reliable service for colour or black and white A5 printing and your business printing documents that will be ready for collection or delivery within hours of us receiving your order. We are very competitive and efficient and guarantee to always meet your deadlines.
Student A5 Printing
We offer Same Day Student Services with a special 10% Discount for any student portfolio printing in A5 from our Central London location. All students will receive a 10% student discount on printing and binding. Just please show your Student ID to us and mention this page to our member of staff and we will gladly offer you the discount.
Discounts available for WeWork Paddington, Paddington Central and 10 Eastbourne Terrace clients
If you are looking to get a discount of the price for A5 prints of WeWork or 10 Eastbourne terrace it is worth noting that Reload Internet is only a short walking distance from WeWork Paddington, Paddington Central and 10 Eastbourne Terrace so it makes sense to call us or email us your print needs before paying for your small business print needs.
For large amounts of printing, you can email us your files together with your printing requirements and you can rest assured we will beat any price WeWork Paddington or 10 Eastbourne Terrace can offer you.
We will manage the whole print process for you so you can sit back knowing that our professionals are getting everything ready for you.
We offer A5 colour and black and white printing on different grades of print paper available in single or double-sided printing as well as binding and laminating.
We can arrange the payment of your print services in person (cash or card), over the phone or via online payment by email.
A5 Printing on premium grade paper
We stock many different types of paper and card with a thickness from 80 gsm to 350 gsm – matt, silk and uncoated, white, off-white and ivory.
We also stock Conqueror and Pearlescent paper and card and you are welcome to come and check our paper sample book where we have a wide variety of samples available for you to look at – perfect for that extra special presentation or CV or resume.
Contact us now to find out more about our in store stock of premium papers

 or call us on

02072624111
Mobile and Wi-Fi Printing
Come into our store in Paddington and we can print from your mobile device without searching for a printer or accessing a company network. We make it easy for you to print, just show our member of staff your phone and what you need to print in A5 and we will take care of the rest. In short we will either email ourselves the file or in touch-to-print wireless printing from NFC-capable devices. Again – nothing for you to worry about. We will take care of everything, all you have to do is visit us!
Other services available at Reload:
Please click on the image to learn more.
   
A5 Printing on the Spot in Central London
We look forward to welcoming you at Reload Internet, in Paddington, London.
Please call us on 02072624111 if you have any questions or email us at: