At Reload Internet in Paddington, London we can snap and print your Australian Passport photo or Vis while you wait for £9.99 for a set of 6 photos.
Getting your Australian Passport Photo takes just a few minutes as Reload Internet uses the latest in Canon and Mitsubishi technology that meets all Biometric needs and more.
Reload Internet uses a digital process that not only provides an image instantly, but also reduces the "red-eye" effect to ensure that the results are top quality and well suited for the Australian Passport Service (Australian Government).
The Australian Government has strict standards for your Australian Passport Photo and Reload Internet ensures that they are met thanks to the document photography system we have instore.
Our biometrically enabled Australian Passport Photo meets the exacting standards that includes the size of your head in the photo measuring 29mm to 34mm from head to chin.
In addition to Australian Passport Photos, the services of Reload Internet are recommended by the local VFS office for their 50mm by 50mm photos required for their Passports.
The photos are guaranteed which means that they will be taken again for free if they are not right the first time. In addition to Australian Passport Photo and IDs, the photos created by Reload Internet are perfect for following uses;
Baby Passports
Bus Passes
Driver's Licences
Hospital & Health Care
Rail Cards
School & University Cards
Student Cards
US Visa & More
Be sure to drop by Reload Internet to find out more information about how you can purchase the right Australian Passport Photo and ID photos for your needs.
Australian Passport Photo and Visa Photo specifications:
The specifications for Australian Passport Photos are not as straightforward as you may believe and some photo kiosks will not be equipped to print the correct specifications required. However all Reload Internet Australian passport photos will comply with the following standards set out by the Australian Government.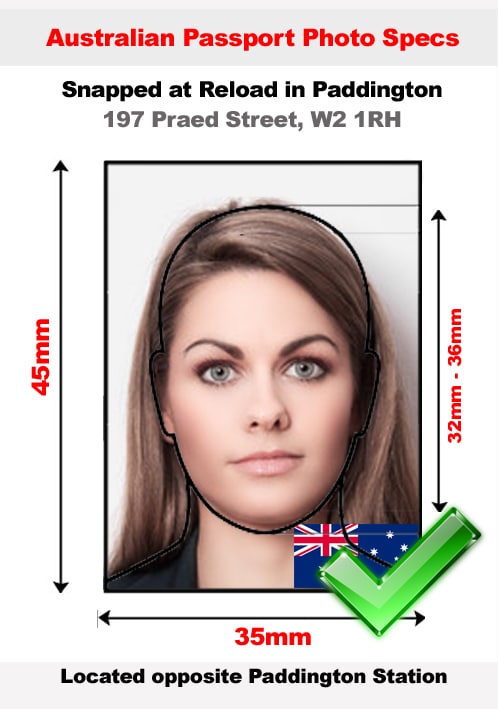 Width: 35mm to 40mm
Height: 45mm to 50mm
Full Front View of Head, Face in Centre of Photo, Includes Top of Shoulders
Neutral Expression: No Laughing or Frowning
Show Edges of Face: Including All Facial Hair
Size of Head from Chin to Crown: 32mm to 36mm
Head Covering for Religious Reasons Must Not Cover Any Part of the Face
All Photos Identical
All Photos Taken within Previous Six Months
Clear, Sharp, Well Defined Photos
While or Light Coloured Background
All Australian Passport Photos will be printed on High Quality Photographic Paper as required by the Australian Government
Directions to get your Australian Passport Photos snapped and printed in London
CLICK HERE TO NAVIGATE TO US ON GOOGLE MAPS
We look forward to welcoming you at Reload Internet, in Paddington, London.