What Reload Internet offers in 2020
Reload internet has certainly pivoted its services and has moved from strength to strength. We are now a premier supplier of passport photos and visa photos. We offer a OCI help service, an instant digital printing service that can print photos instantly (including Panaromic Photo Prints) and we still do a lot of print work for local businesses and tourists that require a print or two of their boarding passes or emails including A0, A1, A2 and A3 poster printing. Interestingly we sell mobile sim cards and data sim cards to smart phone users that wish to use mobile data on their phones.
How far we have come from our humble beginnings of just being an Internet Cafe in Paddington – some of the photos of reload internet cafe can be seen here – many have stated our success lies due only to our prime position in Paddington opposite the London Hilton Paddington – however, we have found that many of our clients have used us for over 20 years and we have steadily built a loyal following of customers that enjoy meeting our staff – and ultimately we believe that is the real recipe of our success – our Team.
Incidentally if you are looking for a Job in Paddington – and are reading this, please do apply here – we are always looking for fresh talent to help our company grow.
Background of Reload Internet
The original idea for Reload Internet came in 1998 and it was to simply create a new species of internet cafe in Central London which took the styling and ergonomic elements of bars like the Pangeer and the Oxo, and apply them to an internet café. Upmarket, modern styling would set the tone for a space designed to allow businesses to launch new products, film crews to record live events, and travelling businessmen to rent private office space. The centre would be equally accessible to tourists simply wanting to check their emails and it certainly did create a stir, with many celebrities that lived locally using the premises, including Jamie Hartman from Ben's Brother being a member of the Reload Club. Watch the video below on Jamie Hartman supporting Reload Internet.
At the time, I was convinced there was still space on our high streets for a small, independent business but knew that most retailers are forced out by the large chains and multiples.
Searching for an idea that would sell, I developed the concept of Reload, based on the services offered by an internet café, but with a very different image.
Some of the ideas included indoor waterfalls, private alcove browsing rooms, custom-designed steel-sculptured furniture and the World's first paperless boardroom table which consisted of a custom designed, circular, 12 seater, glass table. Each user could potentially browse the internet on 21" monitors actually recessed beneath the glass – think; newsreader's desks on TV or multi-player games with direct eye contact with not even a monitor in sight!
Despite coming from an entrepreneurial background, I was surprisingly met with a lot of scepticism. Everyone that I mentioned the idea to would constantly compare what I was doing with failing businesses already on the high street. A high street bank even criticised the name – Reload.
Out of sheer frustration and without being able to find an investor for the business I decided to fund my own idea and this involved investing all of my free time and social life, not only towards the extensive building works, but also into creating products that were beautifully packaged and industry standard.
Reload took over 18 months to complete from ground up – 12 months more than was originally expected.
Looking back, it was a time filled with endless hours blended seamlessly with a constant "not-knowing" what might happen next. The only thing that really saw me through the tough time was my belief in what I was trying to create. I really believed in my original idea, but I found that people did not really share my enthusiasm. In the end I just accepted what they had to say, and carried on with my own work, regardless.
Reload has proven to be very successful, moving from strength to strength, and has also received numerous write-ups – my favourite being by British Airways High Life magazine: "Reload – Number 1 internet café in the world!"
Seeing Reload, open, trading to the public brings me a great deal of joy, but more importantly seeing how enthusiastic customers and our team of staff are about Reload is the greatest compliment of them all.
As our businesses evolve more towards business services, and providing mobile data solutions to travelling businesses, the business is now evolving to supplying work spaces in Paddington to small businesses that are looking for a place to work away from home.
Reload wireless technology supplies prepaid internet access over London, and we are the only store in London that offers a WIFI ticket system that works all over London. It has attracted great interest by giving wireless freedom to customers using their laptops in Hyde Park.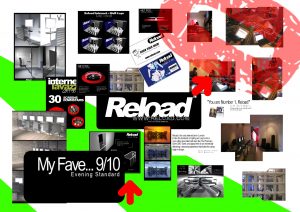 Why does an internet cafe in London still exist?
Not surprisingly, we are asked this question quite a bit. But usually – by customers that rush in and thank us for offering the facilities that they require. Where else can you go in London to take a one page print of your document, or, print, sign, scan, and send your document with staff at hand to assist you with the whole process?
We were the first internet cafe in 2000 to use leased lines (i.e. before ADSL existed) there was Dial-up and Leased Lines. Leased lines were wildly expensive but very robust. In fact for the two years we had leased lines, we never had even 5 minutes of downtime. Download speed was 256 KBS (0.2 of meg).
Customers using our premises were astonished and the site attracted Video Editors, Music producers and the general public curious to see what the internet could be. Though 256KBS was only 4 – 5 times faster than dial up, it felt 100 times faster and this was because there was no contention (people sharing lines with us) and being that lines were leased, the ping response time was literally zero. This meant, pages loaded as fast as you could click the enter key.
When ADSL was initially released to the general public, people would comment that no one would use our premises as speeds like this would be available to the consumer in their homes. ADSL was released – and customers continued to use us.
And then, the biggest challenge, Smart phones grew in popularity – and now people ask why customers would still use an internet cafe?
My response is – that people still need a place to sit down and work and Reload is the perfect place to do it in. Even though we have state of the art home coffee machines producing Barista quality lattes and cappuccinos, consumers still line up at coffee shops.
Our customers, just want to work, host meetings and use the internet in a quiet friendly atmosphere – and be treated by friendly warm staff members.
Our Staff, Our Team
In a world where consumers are becoming more and more faceless – our clients really appreciate the knowledge, and genuineness of the Reload Team, and we do care.
You can buy a Prepaid Data Sim from any place in London including newsagents now – but our customers, really appreciate the knowledge that the Reload Team has and this knowledge in the tech world is something that constantly needs to change. You may have know everything about Dial-up and ICQ, 10 short years ago – now all of that knowledge is worthless. Sad, but true.
When we first started selling Data Sim cards – It was Vodafone that customers only asked for. Now there is EE as the most reliable, Three as the lowest priced, and LycaMobile remains the most competitive.
So choosing Reload, means, choosing the right network – not taking a network that will pay us the most commission – at your expense.
Passport photos as well seems like a simple thing to do. In fact kiosks automate the process. But customers choose us because the Reload team truly understand what the embassies require. We are one of the few places that know for example that the Sri Lankan embassy require both ears to be shown in a photo (one fact) or that you can wear glasses in a UK passport photo as long as there is not a reflection from the glass in your glasses. And we always make sure that we will hand you a mirror before we snap your picture. Why?
Because we understand that a Passport Photo will last for 10 – 15 years, and it is this small attention to details that makes us love what we do!
Binding is a big subject as well – but we never use cheap plastic binds in Reload Internet like high street chains like Rymans do. Why? Because plastic binds only open 180 degrees and look cheap.
We only use metal Bind Wire which means, professionally finished documents for Students and Business People and documents that open correctly – 360 Degrees.
I hope if you visit us that you also see the amount of hard work that we have placed in our business and how much we value all of our customers.
Some of Our Principles
We at Reload understand that no commercial enterprise in today's changing market place will be successful in the long term, if it is not based on certain principles and ideals.
Reloads principles & business ethics are not negotiable. Whilst our tactical plans and many other elements of our company may change, our basic philosophy will not. To meet the challenges of a constantly changing World, we are prepared to change everything about ourselves, except our values.
Both Employees and customers need to know that any services or products sold by us (or through any of our other operating companies) will always meet their highest expectations. The integrity of our services is sacrosanct and implicit in this commitment is an absolute and uncompromising dedication to quality. We will never compromise on our value of service in order to save costs. Quality improvement must be our goal.
i. Reload will offer Customers goods and services that they want. Those services offered will be of the highest quality and best value.
ii. Team players must have a thorough understanding of Reload and all of the various services available to them. Team Players must be able to answer confidentially any question asked by any customer in regards to any sector from our various services.
iii. All Team Players must live by a policy of good human relations with all concerned in and with the operation – Fellow Workers, Customers (guests) and even Suppliers.
iv. Every individual entering our premises must be treated no differently then a Guest would be treated arriving into your home. Team players are expected to go that extra mile with potential customers, whilst at the same time being able to maintain a certain balance with their other duties, and other customers.
v. Our Team Players should work closely with our systems in place. We encourage them to keep up with the most modern and efficient techniques dictated by the latest discoveries in science and technology.
vi. Team Players must never forget the importance of satisfying a customer.