Get your Albanian passport photo or visa photo for Albania taken from Reload Internet in Paddington, London. Our expert staff can take your albanian photo with perfect lighting and background, to ensure that it meets the strict requirements needed to have your Albanian passport photo application accepted.
Once we have taken the Albanian passport photo for you, we will then print it and cut it to size instantly, as we aim to have all of our customers Albania passport photographs ready within 5 minutes of their arrival at our store.
Our passport photo studio stays open late all week long, so you can easily pop in to have your passport or visa photo taken at a time that suits you. When you have your Albanian passport photo or visa photo taken at our studio, we will provide you with a set of 4 photographs at an affordable price, and they will come with a guarantee to pass at the Embassy of Albania.
Albanian Passport Photo specifications
Your application should include five photographs, each measuring 40mm x 50mm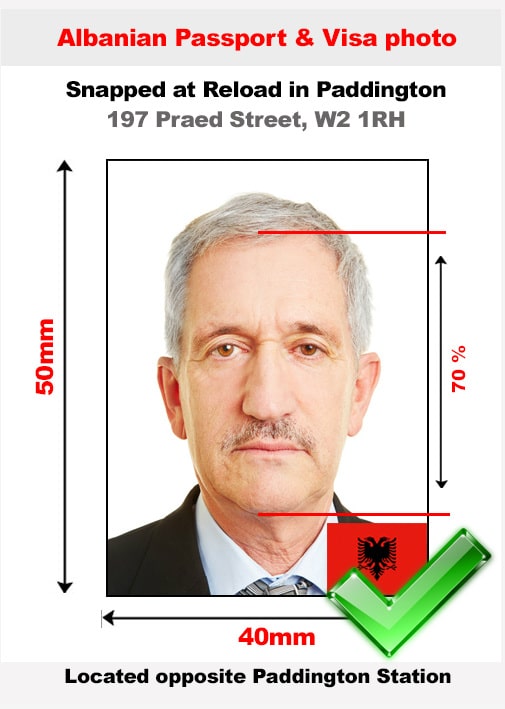 Photographs should be as recent as possible, reflecting your current appearance. Photos which are older than six months will not be accepted.

Photographs must be taken against a white background, with no shadows visible anywhere in the picture.

70% of the photo needs to be taken up by your face. In practice, this means that when the photo is printed off, the distance from the top to the bottom of your face will measure approximately 35mm.

In the photograph, you must not smile, and must keep your mouth closed and your eyes open. You will also need to be looking straight into the camera, with your head level.

Headwear worn for religious and medical reasons is permitted, but your full face must still be visible from chin to forehead.

Wherever possible, you should take off your glasses before the photograph is taken. We understand that this is not always possible, though – in these cases, both your eyes need to be clearly visible, without any reflection or glare on the lenses

Photos need to have a suitable level of brightness and contrast, so that they remain clear.
Albania Passport photo Video
Watch the video below for more information on your Albanian passport photo or visa photo, and to see how quickly we can produce them:
Often, the pictures that you get from an instant photo kiosk just aren't up to standard when it comes to an Albanian visa or passport application. Fortunately for you, we have already worked with hundreds of satisfied customers, who came to us to have their Albanian passport photo or visa photo taken to the exact specifications needed.
By working with us to get your Albanian passport and visa photos, you can be assured that your application will proceed without any problems. The Albanian Embassy is strict with their requirements, and your photos will need to be clear and easy to identify you from, so that you can enter Albania quickly.
Your Albanian passport photo or visa photo needs to be under six months old. The photograph itself needs to be properly focused and of high quality. It must reflect your natural appearance, which means you cannot wear an excessive amount of makeup, or wear anything which may alter the features of your face considerably.
The photograph itself needs to be printed on high quality white paper, which we will provide here at Reload Internet in Paddington, London.
Should your photograph not match up with the specifications outlined here, then the Albanian Embassy will likely reject it, and you will have to begin the process all over again. That's why you should come to us, so we can take care of everything for you.
We receive our specifications from the Embassy of Albania's guidelines on passport and visa photographs, which can be found here.
Passport Photo printed in London