Located in Paddington London, Reload Internet is a passport photo studio that uses the latest camera and printing technology to produce Cambodian passport and visa photographs. Our staff will take your Cambodian passport photo or visa photo meeting all of the specifications and using the correct lighting and background required for your passport or visa application for Cambodia.
You don't have to wait so long to get your Cambodian passport photo or visa photo – we will print and prepare your photographs immediately after they are taken.
We stay open 7 days a week here at Reload Internet, from early in the morning until late into the evening, so you can come and have your Cambodian passport photo or visa photo captured, printed and prepared at a time that suits you. When you come to Reload Internet for your Cambodian passport or visa photos, we will provide you with a set of 4 at an affordable price – and they also come with a guarantee to pass at the Embassy of Cambodia.
Cambodia passport photo
specifications

/ Cambodia visa photographs

Cambodian Embassy will only accept passport and visa photos that are of good quality. This is why taking passport photos in instant photo kiosk or on a home computer can cause your application to be rejected, and you will have to restart the process. We have seen lots of customers who had their application rejected because of an issue with their passport or visa photo, and so came to us to have their Cambodian passport photo or visa photo done correctly.

We want to help avoid the delays which most applicants encounter when applying for a Cambodian passport or visa. The photo you use for you application must clearly identify you as the Cambodian passport/visa holder, so that you do not encounter any problems when travelling with it.

The Cambodian Embassy only accepts photos that aren't older than 6 months, and are well-focused, free of red eyes and free of reflections. It is also important you appear very natural, with very little makeup. This is important as excessive makeup or anything that can alter your facial features considerably may cause an issue with your application.
Cambodian Passport Photo and Visa Photo specifications
Three passport photographs, each measuring 50mm by 50mm must be submitted with your application.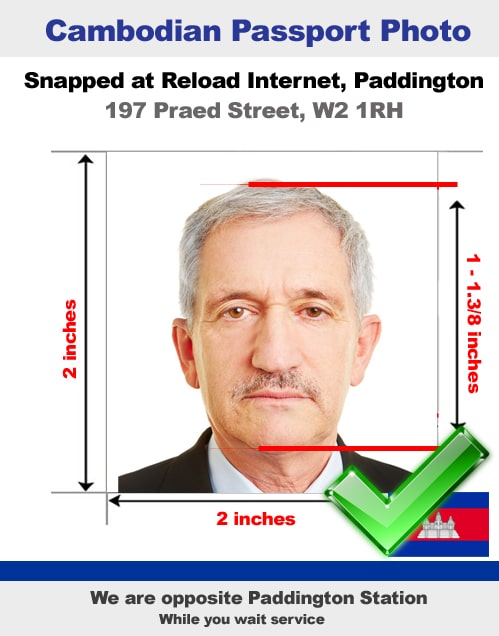 The photo mustn't be older than 6 months.
The Cambodian Embassy does not accept photos taken at photo kiosks or on a home computer
Only light colored backgrounds, preferably white is accepted. Each passport photo must be free of shadows, and the applicant's face must be clearly shown. We recommend you wear dark colored clothing
An applicant's face must cover 50 to 70% of the photograph. This means the applicant's head should measure 25 to 35mm on the photo.
The expression on the applicant's face has to be neutral – wide opened eyes, closed mouth, eyes facing the camera directly, face centered in relation to the camera's position.
Headwear can only be worn under religious and medical circumstances. Even so, your face must be clearly visible from the bottom of your chin to your hairline.
It is advised you take off your glasses when taking passport photograph. However if you must wear them, ensure your eyes can be clearly seen through the lenses, and there is no reflection of any sort.
Contrast and brightness has to be right. No form of photo retouching is permitted.
Failure to meet specified requirements can lead to the rejection of your Cambodian passport or visa application. Here at Reload Internet, we guarantee that the Cambodian passport photo or visa photo that you receive from us will pass at the Embassy of Cambodia.
We receive our specifications directly from the official UK embassy and Embassy of Cambodia's guidelines on passport and visa photographs that can be seen here
Cambodia Passport Photo printed here