Reload Internet is a passport photo studio that operates from Paddington, London and can assist in helping you with your Ethiopian passport photo or visa photo. Our trained staff will help take your pictures with the appropriate lightning and background required by the Embassy of Ethiopia.
We can take, print and prepare your Ethiopian passport photo or visa photo immediately while you wait in the store. We know that your time is precious and that Ethiopian passport and visa applications are time consuming, so we aim to have your photographs ready within 5 minutes of your arrival in our store.
We are open 7 days a week from early morning until late evening, and close late even on a Sunday at 8pm. Our prices are affordable, and we will provide you with a set of 4 Ethiopian passport photo or visa photos that we can guarantee will pass with your application.
Watch the video for more information on Ethiopian passport and visa photos, or to see how efficient we are with producing them.
You need to ensure that you submit photos that are high quality so that the Ethiopian Embassy does not reject your application. The standards they require will not attainable if you utilize instant photo kiosks or use a home computer for your photographs. We have had various customers whose applications were rejected pay us a visit to get the correct details of an Ethiopian passport photo or visa photo.
Selecting Reload Internet for your Ethiopian passport photo or visa photo can aid you in averting hold ups that may occur with your application. You must ensure that you have photographs which are clear and can be used in easily identifying you when you arrive in Ethiopia.
Your photos should be 6 months old or less, and they must be fine in focus without any reflections or red light that can have an impact on the total quality of the photograph. You should have a clear complexion on the pictures, no excessive use of makeup or anything that might alter the applicant's facial features drastically.
Ethiopian Passport Photo and Visa Photo specifications:
Two photographs of size 50 mm x 50 mm should be submitted by the applicant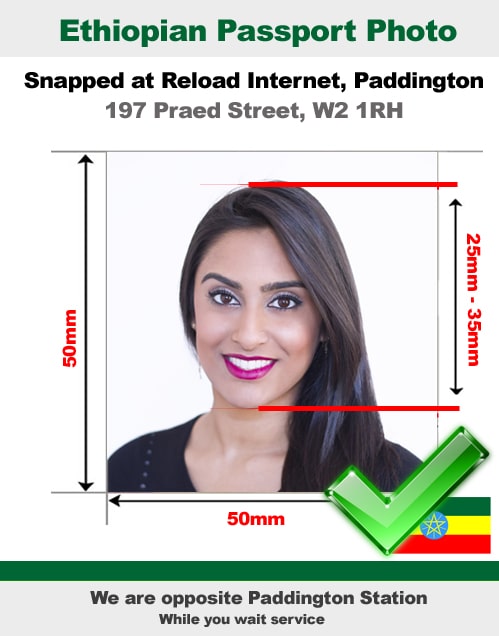 The photos should not be older than six months
The Ethiopian authorities will decline pictures taken in instant photo-booths or on home computers
The colour of the background must be pale coloured or white. There should be no shadows on the face of the applicant or the backdrop. Dark clothing is also suggested.
50-70% of the photograph should be covered by the face, in essence the size of the head should be 25 mm – 35 mm beginning from the chin to crown
The applicant should have an expression which is neutral; eyes open, mouth closed, looking straight into the camera, the head should be in the center and square to the camera. Both ears should also be shown clearly
Under religious or medical circumstances head-wear is allowed, but the features of the applicants face must not be obscured and should be clearly distinguishable from bottom of chin to the hairline, both the edges of the face should also be shown
If you wear glasses we recommend that you remove them to ensure that your photograph passes with your application (lenses and frames are known to have caused numerous issues with photographs in the past such as reflections, obscuring of applicants features, etc.)
The photos should have the correct contrast and brightness; it must also be printed on paper of high quality using high resolution. Photographs that have been digitally altered will be rejected.
If all the specifications above are not met by the photograph, the Embassy of Ethiopia may refuse your application, we guarantee this won't occur to your application if you choose Reload Internet for your Ethiopian passport photo or visa photo.
Our specifications are received directly from the official Embassy of Ethiopia's guidelines of passport and visa photographs, and can be found here.
Passport Photo printed in London