We are able to offer our customers professional Japanese Passport photo within our studio as well as providing photographs for the Visa's for certificate of eligibility and registration as an alien for £9.99 for 6 photos
We know that the requirements for each of the applications are different which is why we pride ourselves on being a professional studio in London that is able to provide the service correctly first time around.
In order to snap the photograph to the specifications required by the Japanese Embassy, we have all the professional equipment needed to provide you with a clear photograph that is suitable for the needs and the high quality printing equipment we have in Paddington will give you the Japanese Passport photograph within 10 minutes with no appointment needed.
The Japanese Government have rigid specifications for your Japanese passport photos and rather than delay your application with photographs that are not fit for purpose we can meet the specifications necessary. With Reload Internet, you can get Japanese passport photographs taken in our store, while you wait and you do not have to make an appointment with us beforehand. Instead you can just come into the studio and have your Japanese passport photo ready to take-away in just a few minutes.
Japanese passport photo specifications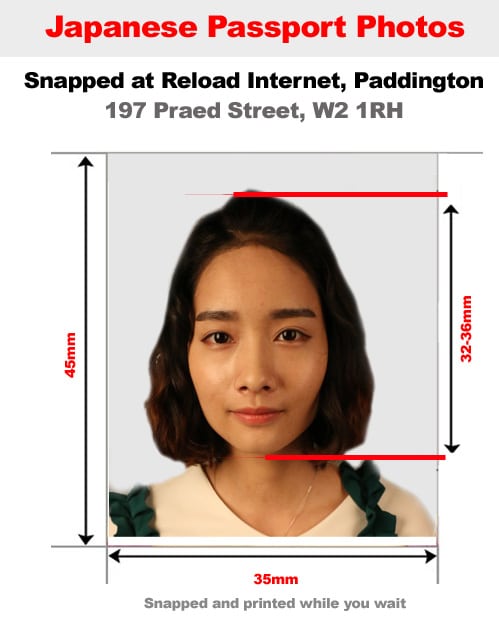 From chin to head the distance must be 32 to 36 mm
From the head to the picture top the distance must be between 2 and 6 mm
The photograph image should be centered
The background can only be white or off white
If you are unable to make it into the Reload studio you can instead email a photograph of yourself to us instead standing on a white background. With the image emailed to us we will be able to ensure it meets the legal specifications for your Japanese passport photos and then it can be either posted or emailed back to you. You can make payment via PayPal, however you can sign in as a guest to make payment if you don't have or wish to make an account.
If you are thinking of having your copy returned via email you should only do so if your country is able to support online applications for visas and passports.
Directions to get your Japanese passport photos and Japanese Visa photos snapped and printed in-store
CLICK HERE TO NAVIGATE TO US ON GOOGLE MAPS
We look forward to welcoming you at Reload Internet, in Paddington.