OCI Application Help in your home from £39.99
We are trialing a new service in 2017, OCI application help and OCI visa assistance from the comfort of your home. You must book an appointment for the service below and we will connect to your laptop or computer in your home and talk and fill in the forms and upload your documents in front of you.
We have been offering OCI help from our Padddington Branch over the past 2 years to great success and have literally assisted hundreds of clients obtain their OCI card, by assisting them to fill the forms in the right way, informing them on the correct documentation, resizing images, resizing signatures, and scanning documents as well as booking appointment at the Indian Embassy for our clients.
Some clients however have found it difficult to travel to Paddington and qwe have introduced OCI application help from the comfort of your home without having the need to come to our store.
For £39.99, our service includes a specially trained member of staff to personally fill in your OCI visa application, digitise your signatures, digitise an OCI image for you and book a priority appointment for you at the Indian Embassy. Our senior manager will also be able to answer all questions that you have in regards to your OCI application process during your booking with us.
Appointments are available Monday to Friday at 2:30pm – 3:30pm.

Have further Questions? Please Call us on: 0333 3908723
OCI application – the Document Requirements
As soon as you book your appointment with us below, you can call us and we will let you know which documents are required for your application.
We have assisted many customers from all over the UK navigate through the somewhat complicated OCI Visa portal application forms from our convenient location in Paddington.
Ready to Book an Appointment for OCI application help?
Use our OCI Application help online booking system
Please select service, date and provider then click on the Find Appointments button.
Once you have made the booking, we will take care of everything for you:
Our staff will fill in your OCI application forms and prepare your documents as well as digitise your signatures and prepare your OCI visa over the telephone. All forms will be printed and prepared for you in store.
We then make a priority booking at your convenience at the VFS Global office in Paddington and you will simply need to hand in the documents we have prepared for you. It's fast and simple.
You will receive your OCI visa within 6 – 8 weeks.
OCI application help in your home
£39.99
This Service includes everything that is required to get your Online Application completed for your OCI – all you require is hard copy of your indian passport photos! We will do everything.
Full breakdown below:
Full OCI application help and guidance from trained member of staff

Your Digital photos resized to 200kbs

Your signature will be digitally scanned

ALL documents will be uploaded to the Indian embassy including your OCI application form

We will give you Printouts of you OCI Application Form (via PDF) required for the Embassy and one copy for your records.

Appointment booking will be made at the Indian Embassy in Paddington for a convenient time for you
If you do not have an indian passport photo to hand, included in this service, we can post you your indian passport photos – and these will arrive within 2 days after we complete your OCI Application
All we require is for you to strand aganst any wall in your home and email us your photos. Will print your prhotos and post them to you as well as digitise your images for your application.
From this: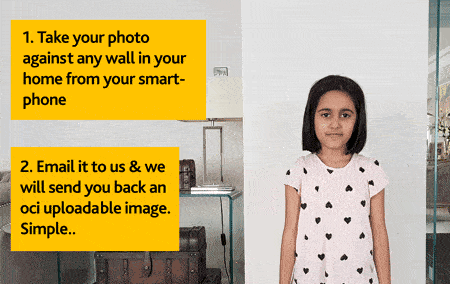 To this: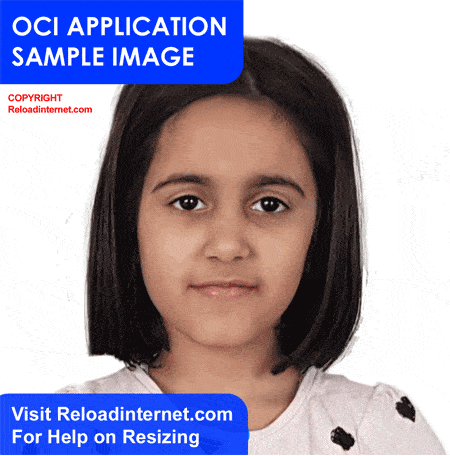 To even us posting you the images to your home, we take care of every aspect of your OCI application for you, for only £39.99
---
Is Reload Internet Affiliated with the Indian Embassy or VFS Global in Paddington?
Reload Internet is NOT affiliated with the Indian Embassy or VFS Global in Paddington. We provide consultancy services and OCI application help for the OCI and indian form filling process and we are very good at what we do. The OCI Visa was introduced by the amendment of the Indian citizenship act 1955, and was introduced in August 2005. It has been a great success with many applications being approved, however, in spite of the technology and the modern age, filling in the online forms has proven for some to be a daunting experience. The online portal developed jointly by VFS Global, Indian Visa, OCI, Passport and Consular services centre and the Indian Embassy is a powerful web resource that can process new OCI applications, and even issue and reissue duplicate OCI documents.
In case of issuance, the online web portal can even change personal particulars, Nationality, name, change of address/ occupation and loss and even damage of the OCI registration certificate/visa. However, for some applicants the process has proven a little frustrating and Reload Internet is able to help.
Reload Internet is more than just a Indian Passport photo processing center in Paddington that can click and process Indian Passport photos in store while you wait – Reload also understands and can assist overseas citizens of India with their OCI applications on the same day that they will be submitting to the VFS Global Paddington, Indian Visa, OCI, Passport and Consular services centre (as long as you have an appointment with the VFS Global Paddington / Indian Embassy)
Children OCI Application – Important Notes
If your children are applying and are a person who has not reached the legal age i.e. 18 years old, then this is what will be required, and, we will be happy to overlook your application and assist you where necessary:
Parental authorisation forms
Copies of the Parents UK / Foreign passport or OCI cards.
A Copy of the information page of the Parents will also be required – for clarity this is the page in the passport where the passport photo and details (name etc) are clearly shown in the passport.
If parents have OCI cards, then copies of both information pages will be required on the OCI card.
People over the age of twenty years old are required to apply for the OCI again every time a new passport is issued.
OCI Photo Specifications
How long will the OCI application take to complete?
That's a great question. Once the application is submitted to VFS Global Paddington, Indian Visa, OCI, Passport and Consular services centre and for it to be issued it takes approximately 6 to 8 weeks.
We have sadly seen it take longer – and sometimes, much sooner.