Reload offers Japan passport photo online service with home delivery. Simply email us your photo and we will get your Passport Photo mailed and delivered to your home and we even have next day delivery options available.
All you need to do is take a suitable picture, email it to us, and we'll handle the rest!
Japan Passport Photos Online
Our online passport photo service is extremely straightforward.
Step 1:
Take a photo from your mobile phone against any plain coloured wall in your home
Applicant should stand approximately 50 cm (20 inches) away from the back wall.
The applicant should ideally face a light source with as even lighting on the face as possible.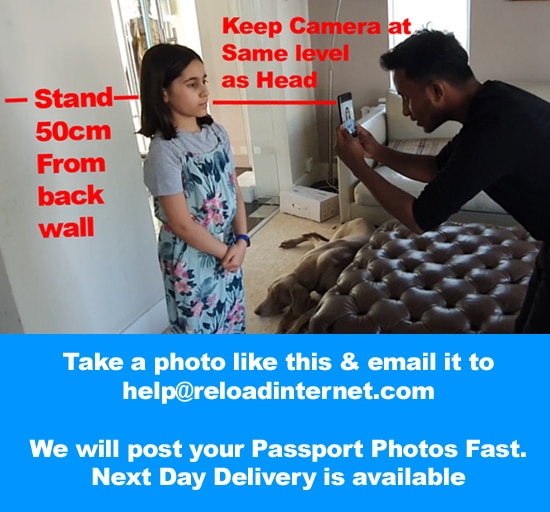 Step 2:
We will send you a secure payment link after we check your photo
Whether it is an adult, child or baby passport photo that you require, we will only send you a payment link once we are 100% certain we can use your photo for the passport photo you require as we guarantee your passport photos will pass.
Step 3: Receive your Passport photo by Post
We will mail your passport photo to you fast, even next working day if you need it, UK & Worldwide
Digital Passport photos are emailed to you same day
Japan Passport Photo Online specifications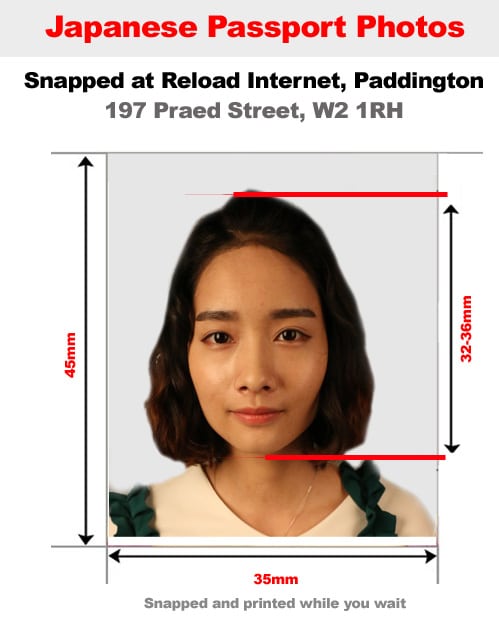 From chin to head the distance must be 32 to 36 mm
From the head to the picture top the distance must be between 2 and 6 mm
The photograph image should be centered
The background can only be white or off white
The following image has been provided by the Japanese government for Japanese Passport Photos.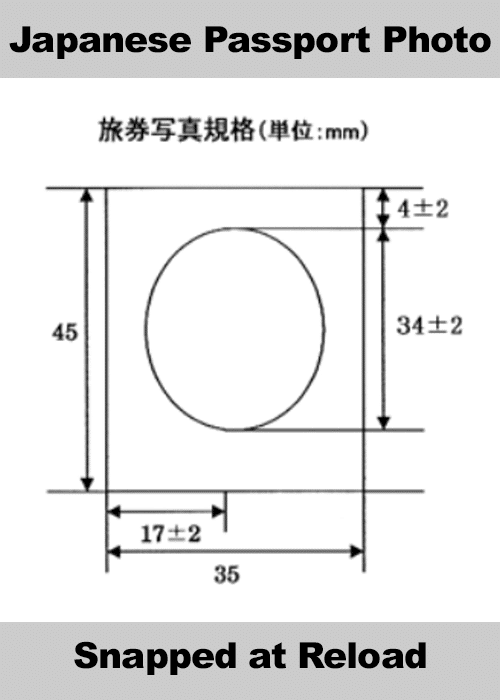 Japanese Visa Photo specifications:
Your photograph must measure 4.5cm x 4.5cm, with 60-80% of the photograph being covered by the applicant's face. This means that when printed, the length from the bottom of the chin to the top of the forehead must be between 27-36mm.
Your photograph must feature a white background, without any marks or shadows visible on the applicant nor the backdrop

Your photograph must have been taken within the 6 months prior to your application being submitted

You must adopt a neutral expression when the photograph is being taken. Both eyes must be open and looking straight into the camera lens, as well as your mouth being closed

Your head must be square and straight to the camera, with the camera lens at eye level when the photograph is captured

Headwear is prohibited, exceptions can be made for religious, cultural or medical reasons. Even under these circumstances, the applicant's full facial features must be clearly visible from the bottom of their chin to the top of their forehead

If you happen to wear glasses, we recommend removing them to ensure that your photograph will pass. Reflections from the lenses, as well as the frames obscuring the applicant's features, are very common reasons for photograph failure

Your photographs must be printed on high-quality photo paper with a minimum DPI of 600
Your Japan visa photo must meet all of the requirements listed above, otherwise it will be rejected when you try and submit it with your application to the Japanese Embassy.
All of our specifications are taken from the Embassy of Japan's passport and visa photo guidelines.
Why choose Reload?
We know our clients live busy lives and may not be able to spare the time to come to our store in Paddington to have their passport photos taken. Our online passport photo by post service solves this problem, while also ensuring that you look your very best in your passport photo.
We have over 15 years of experience creating passport photos for any country in the world and specialise in US Passport and Visa Photos. Please browse our directory and see how we are equipped to deal with any passport photo specification in the world.
We can prepare Passport Photos online for any country in the world, just email us at