At Reload Internet we will print your 360 degree photos into panoramic photos. These photos can stretch as far and as long as your imagination. We print all photos from your phone, tablet, email and/or USB stick – just visit us instore in Paddington, London.
Panoramic printing helps bring your landscape image prints to life. We at Reload internet provide custom size panoramic printing along with high quality prints that highlight and enhance the colour also capture small details.
These prints can be in black & white or in colours, the quality and beauty of these printed images remain constant. Panoramic pictures have a glossy finish giving it a bright and lively look. These high quality printed artwork or photography create a significant impact, giving a real time experience of that image.
Our team of experts at Reload use special graphic tools of panoramic photo printing, optimising your digital photos from your mobile phone or camera. These panoramic photos are printed in a way that it feels like photos have come to life.
Panoramic Photo Printing sizes available
Reload Internet guarantees that you will receive high quality, clear and lifelike panoramic photos. It will 100% be a perfect match with your digital image.

The Printers we use in store have unique image processing circuits which allow digital images to appear natural and sharp with no color bleeding.

The Printer technology ensures that we can provide you with high density, sharp, life-like images for portrait photography meeting the expectations even of the most discerning clients.

Your Photo Printouts panoramic (or any photo size for that matter) will be available to you in both a Matte or Glossy Finish – both will provide print finishes which have satin finishes.
At Reload Internet, based in Paddington these panoramic images can also be printed from your iPad, iPhone, Android device or Digital Camera.
With our Mobile phone printing facility in store you can simply email us your photos, or you can upload them to us using our special upload tool straight from your mobile phone that our staff will show you how.

Other Photo prints sizes available in Paddington, London
VIEW ALL PHOTO PRINT SIZES AVAILABLE
Why is Reload better than any other High Street Competition
We at Reload Internet aim to provide full customer satisfaction by providing high quality photo printing.

We specialise in photo printing, across all sizes. Our staff and team members are extremely patient and will help you select the photos you want to print. The quantity of prints can vary but we have it all.

We also operate on weekends

We do not offer photo printing kiosks – this goes against what our motto is

We make sure all the photos are printed correctly and laid out well. At Reload we also make sure that none of the photos are stretched or skewed, on the contrary they are well cropped so the fit the print size correctly.

At Reload we use only Japanese Photo Printers, these printers are known for their high reliability and crystal clear crisp photos. We do not compromise on our quality or service for the sake of profitability. The results of the printed photos speak for themselves.

The staff at Reload Internet will provide a 100% service like no other competitor.
Panoramic photo printing and other photo prints sizes are available
We can print your photos in a lot of sizes whether you need square photos, panoramic photo or a standard photo we will have a solution. You will be impressed as we can print your photos instantly in store in many different photo sizes. All you have to do is provide the exact measurement and leave the rest to us.
High quality delivery and service is what makes us different. We assure to provide you with high quality and fade resistant paper – keeping the memory of the image alive forever. Simply transform your Android or iPhone panoramic images to beautiful, special and unique art and light up your house.
These prints are handled and managed by our skilled and efficient staff at our store in Paddington. Our aim is to deliver premium high quality panoramic prints at economic and affordable prices.
At Reload you will experience professional, high quality services to all customers. All prints are personally checked before handing over to the customer.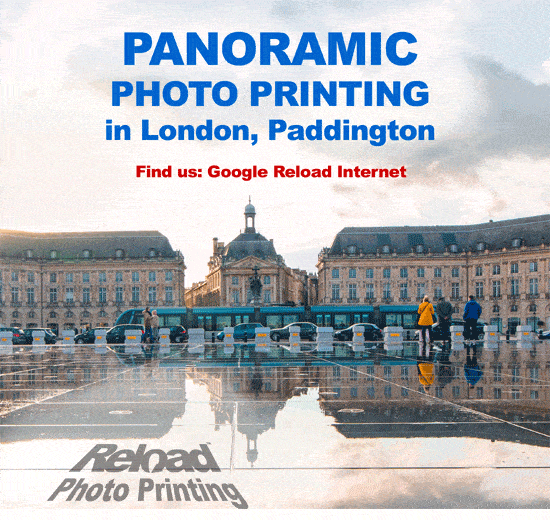 Panamoric photo printing – watch our video
Watch the Video on how quickly we can print your photos in store in Paddington. We can print one single photo to over 100 – in a variety of sizes. Not all printed photos are regular sized, with changing times there are multiple options available to you and we have all photo print sizes in-store.
Please contact us
If you require custom sizes for your photo printing or large orders – then please email us directly. We cater for all clients all over London that require photo printing and can offer quantity discounting.

Panoramic photo prints in London
Get your photos printed in London now, find Reload Internet here: