At Reload Internet, we can create amazing instant metallic photo prints for you. You can choose any of your favorite memories, a photo of a beautiful landscape, your wedding photograph or even a family photo. Using our premium metallic photo printing media, you can shine a new light onto your photos and make amazing displays in your home or studio with our metallic prints.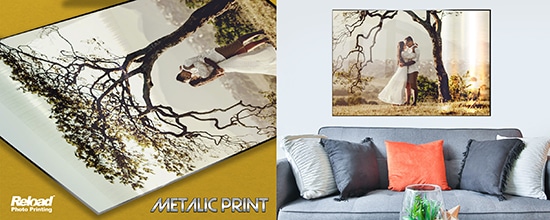 The pictures will be printed flawlessly by a high quality dye sublimation process using Japanese printers. Printing in this manner results in an ultra high definition and high quality finish which will really make your photos pop!
Why Metallic Photo Printing at Reload?
At Reload, We constantly work to improve our range of services and to provide quality and value oriented products to our valued customers and we are proud to be one of the few stores in Central London capable of metallic photo printing.
Our customer service team is highly trained and will always be able to satisfy your photo printing needs. With our metallic photo printing service, you can get all of your commercial, wedding or portrait photos metalized which will give a distinct, professoinal look to your photos.
Reload is an independent business which aims to provide high quality photo printing and complete customer satisfaction.

We specialise in photo printing, across all sizes. Our staff and team members are extremely patient and will help you select the photos you want to print.

We also operate on weekends

We prefer not to offer photo printing kiosks – instead friendly helpful staff that do the work for you. Self service kiosks go against our motto.

The results of our printed photos speak for themselves.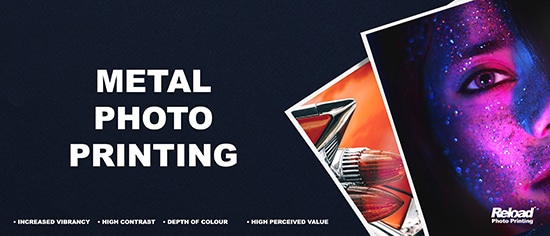 Our specialist staff pay individual attention to each image and ensure that your photos, when printed on our metallic medium, create a stunning visual impression. The metalized medium used in the printing process enhances the saturation, color and brightness of your photos and especially enriches the deep blacks.
Advantages of Metallic Photo Printing
Metallic photo prints are the perfect medium for exhibiting your photographs and art in their full glory. They really bring out the vibrance of colours and sharpness of details. The pearlescent finish has great contrast, resulting in deep blacks, bright highlights and a rich tone.
Black and white, sepia or images with high colour saturation get the best results with metal prints. We would recommend metallic prints for landscapes, highly detailed scenes and custom artworks. The lustrous finish provides exceptional clarity and gives an almost three dimensional look to finished images.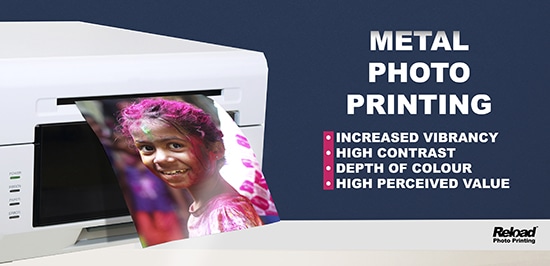 Since the prints have a unique pearlescent finish with vibrant and crisp colours, they are perfectly suited for artists They can also be easily mounted and are ideal for showing off highly detailed, colourful photo prints.
The metallic photo printing medium was created for galleries and top photographers, but now is easily available to you at Reload!
Sizes Available for Metallic Photo Prints
We have a wide range of sizes available to suit your every need, from small prints which you can combine with other pieces of art to make a great display, to large panoramic prints which can be the centrepiece of your room.
Metallic photo prints can also make the perfect gift when combined with the range of frames we have in store.
The table below details all the sizes we have available and their prices:
| Photo Finish | Print Size (inches) | Print Size (cm) | Price |
| --- | --- | --- | --- |
| Metal | 4x6 | 10x15 | £9.99 |
| Metal | 6x6 | 15x15 | £12.49 |
| Metal | 6x8 | 15x20 | £14.99 |
| Metal | 4x8 | 10x20 | £12.49 |
| Metal | 5x8 | 13x20 | £14.99 |
| Metal | 8x8 | 20x20 | £19.99 |
| Metal | 8x10 | 20x25 | £24.99 |
| Metal | 8x12 | 20x30 | £29.99 |
| Metal | 8x22 | 20x55 | £59.99 |
| Metal | 8x32 | 20x80 | £79.99 |
Metallic Photo Prints start at £9.99 each. We can also offer discounts for larger orders
If you are looking for other options for printing your photos, why not take a look at our complete directory of photo printing services. Click here to find out more.
Metallic Photo Print Time Frames
At Reload, we can complete your Metallic Photo Prints instantly while you wait in store, or we can print ahead of time for collection, any day of the week.
If you need a quick turnaround, high-quality metal photo print, it doesn't get much better than Reload Internet Photo Printing.
Next day nationwide delivery is available as well
SO WHY WAIT, PLACE YOUR ORDER. EMAIL US NOW:


Or call us on 02072624111
London Metallic Photo Printing
Use the function below to find Metallic Photo Printing Near Me, or here is the best place to find London Metallic Photo Printing at Reload Internet in Paddington.