We at Reload Internet in Paddington, London offer a wide range of panoramic photo printing options including panorama photo prints in 32x8inches.
This is the best fit for landscape scenes or any image that suits a long sleek photo style and this is the largest size available for panoramic photo printing. We can edit your digital panoramic photos into black & white, blue or sepia tone and our staff are patient enough to help you with this.
We can print your panoramic photo prints in either a Matt Finish or Gloss Finish.
At Reload Internet we also offer Mobile Phone Photo Printing services, where in we can print your beautiful panoramic clicks directly from your digital camera, iPhone, USB stick or you can even email us your digital images.
Once we have received the panoramic images our team of specially trained staff member will take care of your printing needs and also assist you at every step of the way.
In case you are looking at other photo printing sizes and styles that we are pleased to tell you that we have a wide range of sizes available in store to match your needs.
We assure to offer high premium quality photographic paper only, which will help you create and print memories to last a lifetime. The panoramic print quality offered is so crisp and clear that even the smallest of details are highlighted in the photo printing.
These large panorama prints could include beautiful landscapes, wedding pictures or holiday memories taken from your iPhone or Android mobile phone, camera or tablet. All you have to do is come in the store and with minimum waiting you could print images which can be treasured or decorated forever.
Digital Panoramic Photo 32"x8″
At Reload Internet, is one of the few stores that offer specialist direct printing from iPhones and Smartphones. We have invested in the best quality photo printing machines instore that are exclusive to this photo size.
Panoramic Photo Printing from your mobile phone
We can print your photos from your mobile phone all you have to do is email us. If you have a Facebook or Instagram account simply show us your photos and we will print your digital memories into a photograph instantly.
Reload Internet has experience with printing photos from social media. Visit our store in Paddington.

Why choose or Photo Printing Service over a competitor?
Without getting to technical about this – our photo printers in-store are able to print in 600dpi x 600dpi at 4896 x7272 resolution. Trust us, these are really impressive figures and also double resolution to our nearest competitor.
So what does this techi mumbo jumbo mean to you and your beloved photos of loved ones? Ultimately it means we are able to print crisp, clear photo prints, on a premium photo grade paper that will pop out of the photo with a wow factor. In fact, we do our clients say "oh wow" quite regularly as we print the photos instantly.
We spare no expense on our photo printers and import our photo printers from Japan – our nearest competitor openly uses chinese printers and our clients immediately recognize the difference which is why they keep coming back to us.
Finally, Our staff are the real differentiator. We will always offer you 100% support in transfer of your files from your phone or usb onto our software to print. We can have it all done in only a few minutes.
Other Photo prints sizes available
if you require instant digital photo printing please see this below:
VIEW ALL PHOTO PRINT SIZES AVAILABLE
Why choose Reload Internet
We are an independent small business dedicated to high quality photo printing.

Our staff will print the photos for you – that is real service.

We are patient in helping you select the photos you want to print

whether it be only 4 photos or a large order of over a 100 – we can do it all, even on the weekends.

We will ensure that your digital photos are laid out correctly and printed well, not stretched or skewed, instead cropped so they fit the photo print exactly.

We invest in our photo printing technology – We do not cut corners for the sake of profitability and use Japanese Photo Printers known for their reliability and crisp clear quality photo prints. More expensive than its inferior counterparts – but the results in photo prints and passport photos do speak for themselves.
Come Print your panoramic photos at Reload Internet to preserve and cherish your favourite memories !!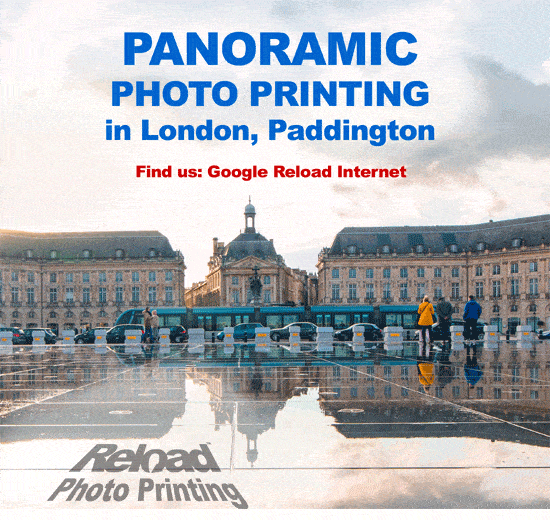 Panamoric photo printing – watch our video
Watch the Video on how quickly we can print your photos in store in Paddington. We can print one single photo to over 100 – in a variety of sizes. Not all printed photos are regular sized, with changing times there are multiple options available to you and we have all photo print sizes in-store.
Please contact us
If you require custom sizes for your photo printing or large orders – then please email us directly. We cater for all clients all over London that require photo printing and can offer quantity discounting.

Panoramic photo prints in London
Get your photos printed in London now, find Reload Internet here: