We at Reload Internet offer Panoramic photo prints 8inchesx24inches (20cmx60cm) along with the assured high resolution. These photos can be from your iPhone or Android mobile too, they all will be printed at their best.
Please pop into our store in Paddington, London and we will print it there and then. Our high definition print quality is perfect to create a special and unique wall art printed in 600dpi x 600dpi upto 4896 x7272 pixels per inch.
Digital Panoramic Photo Printing Specialist in 8″x24″
At Reload Internet, we are Digital Printing specialists and we can print your panoramic images from iPhones and Android and we have invested in the best quality panoramic photo printing machines instore that are exclusive to this photo size. Very few stores in London offer panoramic photo printing of this unique size.
With our high quality printing you can now display your favorite unique landmark or make cool frame for your living room. Our 24inches x 8inches panoramic printed photos are sure to add extra excitement to your living room.
The staff at Reload Internet will always offer you 100% support in all forms and processes. We can have it all done in only a few minutes.
Panoramic printing at Reload
At Reload Internet we provide high resolution photo printing along with stunning quality prints and express services. These beautiful panoramic images can be enlarged to give a poster feel.
The quality of our printing is so amazing, you could use it as a perfect option to dress up your home or flat. With our Mobile printing technology all you have to do this upload the image on our system and the rest of detailing will be taken care of by our team of experts at Reload Internet.
Panorama Photo Printing Service from your mobile
We can print your photos from your mobile phone all you have to do is email us. If you have a Facebook or Instagram account simply show us your photos and we will print your digital memories into a photograph instantly.
Reload Internet has experience with printing photos from social media. Visit our store in Paddington.

Other Photo prints sizes available in Paddington, London
Panoramic Photo printing service
Instant Photo sizes available
VIEW ALL PHOTO PRINT SIZES AVAILABLE
Why choose Reload Internet
We are an independent small business dedicated to high quality photo printing.

Our staff will print the photos for you – that is real service.

We are patient in helping you select the photos you want to print

whether it be only 4 photos or a large order of over a 100 – we can do it all, even on the weekends.

We will ensure that your digital photos are laid out correctly and printed well, not stretched or skewed, instead cropped so they fit the photo print exactly.

We invest in our photo printing technology – We do not cut corners for the sake of profitability and use Japanese Photo Printers known for their reliability and crisp clear quality photo prints. More expensive than its inferior counterparts – but the results in photo prints and passport photos do speak for themselves.
Come Print your panoramic photos at Reload Internet to preserve and cherish your favourite memories !!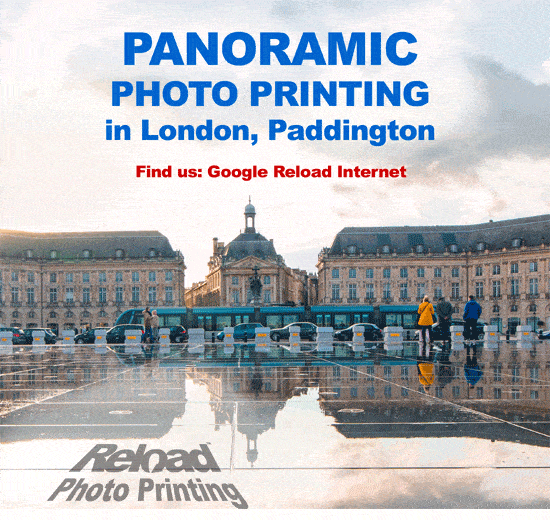 Panamoric photo printing – watch our video
Watch the Video on how quickly we can print your photos in store in Paddington. We can print one single photo to over 100 – in a variety of sizes. Not all printed photos are regular sized, with changing times there are multiple options available to you and we have all photo print sizes in-store.
Please contact us
If you require custom sizes for your photo printing or large orders – then please email us directly. We cater for all clients all over London that require photo printing and can offer quantity discounting.

Panoramic photo prints in London
Get your photos printed in London now, find Reload Internet here: