Reload Internet located opposite Paddington Station can take your Passport Photo instore faster than a Passport photo booth in Paddington Station or Passport Photo kiosk and we are Biometric Approved and can offer you Digital Passport Photos for your Passport.
We recommend using our

Passport photo at Home service

– We will Post your Passport Photo to your home. Simply email us your photo and we will take care of the rest.
COVID 19 GOVERNMENT ALERT: Avoid non-essential travel.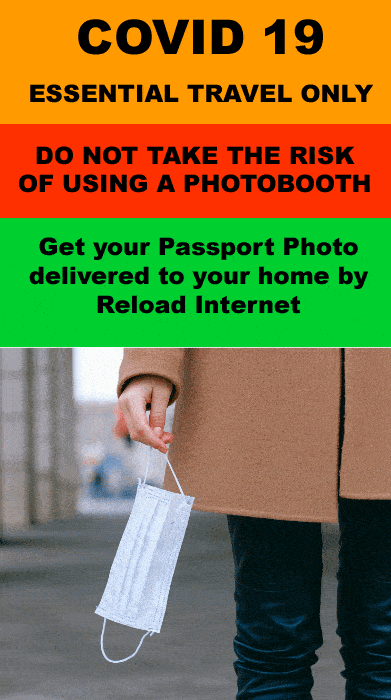 We are located directly opposite the Paddington Hilton Hotel.
No appointment needed and using us is far more effective than using the Passport Photo Booth in Paddington Station. Many passport Photo booths no longer meet the requirements for Biometric technology or meet the stringent requirements for Countries like China that have exacting standards. Further when a passport photo booth fails you at the passport office, you have little come back or recourse.
Reload Internet Passport photo studio in Paddington offers a guaranteed pass service – best of all our prices are very competitive and our early and late opening times make getting your passport photo very convenient.

If you are honestly thinking of using to a photo kiosk Vs. using a specially trained member of staff at Reload Internet taking your photo, preparing it and cutting it (using our special tools) then we would only ask you to visit this page which shows the online reviews for photo kiosks and photo booths – one star reviews.
The reviews really do show the amount of declines are people are facing, and the poor support provided, and the trouble photo kiosks cause for clients renewing their passports.
By using Reload Internet in Paddington (which is roughly the same price as a Passport photo booth in Paddington Station) we will stand by our photo that we create for you instore and ensure that the passport photo is perfect for the Passport office.
We not only can take your UK Biometric Approved Passport photo, or UK driving Licence photo in hard version or digital versions, but we also specialise in passport photos for every Country in the World, including the special sizes for Canadian Visa and Passport Photos, Indian passport photos, US passport and VISA photos.
We know the regulations required even for Countries like China, that require very unique Chinese Passport photo sizes.
Honestly, why take a risk on being declined at the passport office which can be a wasted day? Come and use a professional passport photo studio in Paddington and we will get your passport photo snapped and printed in no time. Give us a call if you have a query – 02072624111
Reload Internet has the latest in lighting technology, with lighting that drops down from the ceiling and we have all of the background colours in store including Grey (recommended for the UK) and white and even blue.
Our state of the art printing machines means that we are able to deliver crisp clear prints of your passport photos. We even cut them and place them in a wallet for you.
Our staff are fully trained on every passport photo requirement for every Country in the World and YES every Country has different face and passport photo size requirements that a Passport Photo booth can not handle.
We can also take baby passport photo or infant passport photos and our staff will keep taking photos till we get the right pose. We are very patient and will treat and care for your child like he or she was our very own.
We looking forward to welcoming to you Reload Internet at 197 Praed Street. Paddington W2 1RH
However, if you really must use a passport photo booth please follow this link to National Rail and the Paddington Station map 🙁