Come to Reload Internet in Paddington, London, for your Qatar passport photo or visa photo. Our skilled team of photographers can help you produce the perfect Qatar passport photo or visa photo. It doesn't take much time, as we can have your photographs ready within 10 minutes of your arrival at our store. And no appointment is even needed!
Our studio is close to Paddington Tube and Train Station, about a 30 second walk from both. We are open everyday of the week, so you can come to us for your Qatar passport photo or visa photo any day and time from morning to evening. Even on a Sunday we stay open until 8pm allowing you to visit at a time that suits you!
You will be given about four photographs at an affordable price by our staff. They will be high-quality and meet every single one of the specifications mentioned in the Embassy of Qatar's guidelines on passport and visa photographs. We guarantee that the photos we provide you with will pass first time when you submit them with your application to the Embassy.
To learn more information about the requirements for Qatar passport and visa photographs, watch our video below:
Your Qatar passport photo or visa photo must meet every single one of the specifications listed below, if not then your application will likely be rejected when you go to submit it to the Embassy because of a photograph error.
Qatar Passport Photo and Visa Photo standard specifications: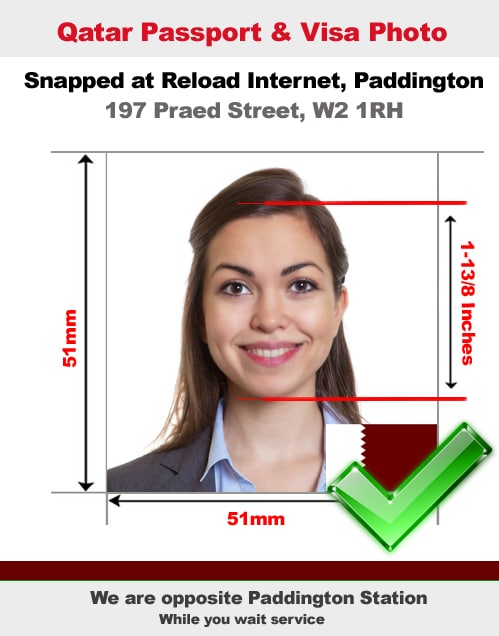 Your photographs must have been taken in the 6 months prior to you submitting your application
Ensure the background colour is white.
Ensure the photo paper is of high quality and can't be spoiled easily by water or wears.
Ensure your face covers up to 70 to 80% of the photographed space so that your face and top of your shoulders can be seen.
The picture must be precise and bright
You must look straight into the camera lens
No colour editing on the picture, your real complexion is expected to show.
The photo must portray a clear-cut view with the accurate contrast setting at a good resolution
The colour must not be too bright or dim, just neutral
Your eyes must be seen, and cannot be closed
Ensure your hair is not covering a part of your face
Ensure you are looking at the camera
Ensure that your entire face is featured in the photo
The photo must be taken with sufficient lighting
A photo with Light reflections or shadows in the eye or red eye will not be allowed
Your eyes must be perfectly visible in the photo
Ensure your eyes are not covered by the camera frame
You should not wear and head-wear in the photo, exceptions are made for religious, medical and cultural circumstances
No obvious smiling or laughing, a neutral expression is best, with your mouth closed
For babies photographs, ensure the eyes of the baby is not closed.
Our skilled staff are well acquainted with the requirements listed above, and they will give you a set of photographs meeting every single one. We are able to produce high quality photos through our camera and printing technology, so you won't have to worry about whether the photograph will be accepted.
All you need to do is to visit our store in Paddington, even without booking any appointment with us, and we will be glad to produce your Qatar passport photo or visa photo and have them ready in less than 10 minutes. We operate according to the official standard of the Qatar Embassy regarding passport and visa photographs, which is listed here.
Passport Photo printed in London