At Reload Internet in Paddington we can take your South Korean Passport Photo or Visa Photo for South Korea, while you wait, with no appointment needed. We provide 6 photos for £9.99 and we are located directly opposite Paddington Station, London.
Watch the video on how fast Reload Internet in Paddington can take your Passport Photo or Visa Photos for South Korea – without an appointment, just pop in today.
South Korean Passport Photo requirements
As you would expect the Passport photo requirements for South Korea are very strict. Some of these rules include:
Your South Korean Passport Photo should be a recent photo not older than six months.
The size from chin to top of head should be between 25 to 35 mm in your South Korean Passport Photo .
Face should be straight and facing the camera in your South Korean Passport Photo .
Do not wear hats or sunglasses.
Your South Korean Passport Photo should measure 35mm x 45 mm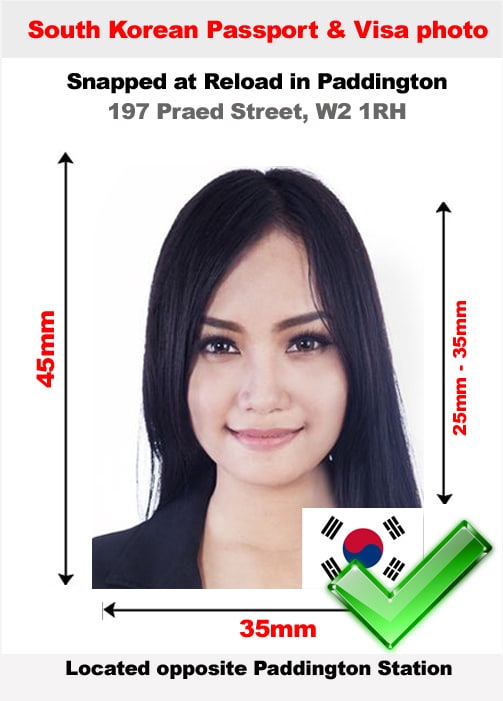 South Korea Visa Photo specifications
Your South Korean Visa photo should not be older than six months and no retouches should be made.
No hats or accessories apart from religious ones should be worn.
Normal clothes and no uniforms.
Your face should be seen clearly.
Only one south korean visa photo is required of dimensions 50 x 50 mm and the background should be pale color or white background.
Interesting facts on South Korean Passport Photos and the Republic of Korea
Citizens of South Korea can travel to 172 countries worldwide as they get visa on arrival; which makes the South Korean passport the 6th best in the world for free travel. All G8 countries provide visa-free access for the passports of South Korea and Chile.
Also, South Korea does not consider North Korea as a different territory although it is ruled by a different administration. Hence, you do not need a passport to go to North Korea as long as you do not enter a third country. But you cannot enter North Korea from South Korea due to the high tensions at DMZ and you will have to traverse through China.
South Korean citizens are not permitted to travel to North Korea, unless the Ministry of Unification and North Korea approves of the travel. The passport of Republic of Korea does not grant you entry to North Korea and instead, they will give a North Korean visa on a separate sheet of paper.
There was a visa free travel period until 2008 which was facilitated due to the sunshine policy, allowing people to cross through DMZ. However, as North Korea shot a woman down in 2008 when she was in DMZ, all such travel has been suspended despite the presence of 4 land border checkpoints between both the countries.
South Korea now uses Biometric Passport Photos
Starting from February 2008, the government of Korea has been issuing biometric passports to government officials and diplomats. Later from August 2008, everybody started getting biometric passports and Reload Internet can process Biomteric Passport photos for you.
The biometric passports include fingerprint information etc. on the chip. However, owing to an issue of ICAO, the fingerprint measures were not implemented until 2010. The passport looks same visually and has 48 pages. However, the visa space was cut down to six pages and it contains information regarding identification, contacts etc. There were also a few changes made in the placing of different pages in the new passport.
Google Directions to get your Passport and Visa Photos for South Korea
CLICK HERE TO NAVIGATE TO US ON GOOGLE MAPS
Video Directions to get your South Korean Passport photos in London, Paddington
We look forward to welcoming you at Reload Internet, in Paddington, London.