If you are in need of a Swiss passport photo or visa photo and reside near London then Reload Internet is the best place to come. We are a passport photo studio in Paddington that has been in operation for over a decade, and specialises in Swiss passport and visa photos. We take hundreds of passport photos every week, for every single country in the world, so our staff know the exact requirements for your Swiss passport photo or visa photo. You don't need an appointment to have your photograph taken by us, just stop by our store and a member of our trained team will be happy to assist you. We aim to have all of our customers passport and visa photographs ready within 10 minutes of their arrival here at our store in Paddington. We are extremely accessible, only a 30 second walk away from Paddington tube station and train station, for people from every area of London.
We are open 7 days a week at Reload Internet, from early morning until late evening, allowing you to come and have your Swiss passport photo or visa photo taken and printed at a time that suits you! We guarantee that the photographs we provide you with will pass at the Embassy of Switzerland the first time that you submit them. We will produce a set of 6 Swiss passport and visa photographs, for a price of just £9.99!
Our video below shows how quickly we can produce your Swiss passport and visa photographs!
You must ensure that the Swiss passport photo or visa photo that you submit with your application meets every single one of the requirements listed below, as your application may be rejected if it doesn't, which will cost you time, money and stress. Let Reload Internet take care of your Swiss passport photo or visa photo and you can avoid any unnecessary delays that might occur with your photograph.
Swiss Passport Photo and Visa Photo specifications:
You will need to present two photographs of size – 45mm x 35mm, with your application letter before you can apply for a passport or visa.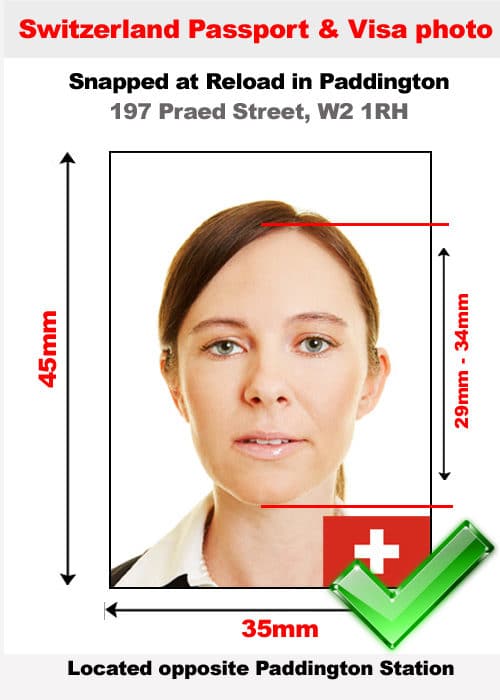 An acceptable photo should measure up to 29 to 35 mm from the tip of your head down to the bottom of your chin.
The background of the photo must be plain white or any color tending to white, no styling, images, figures or pattern is allowed in the frame.
If you wear glasses, we recommend that you remove then to guarantee your photograph passing. The frames and lenses are known to cause applications to be declined due to covering of your features and reflections respectively
You are not meant to cover your hair, however exceptions are made for religious, medical and culutural purposes, and if you must cover your hair, ensure your headwear is not covering any of your facial features
Recent photos are recommended, at least a photo that is less than six months old, please ensure your face maintains a neutral expression, avoid smiling or laughing.
Additional Information in regards to Swiss visas:
Only passports that will not be valid in the next three months are accepted for Swiss visa
You are to complete every form that will validate your trip ticket for your journey, from the country you stay to Switzerland and back home. If the ticket is not ready yet, then obtain a confirmation of the purchase that shows details of your itinerary for travel agents or airline. But if you want to travel out to another country from Switzerland, they will demand a real visa of that country.
You will be expected to convince the embassy that you are buoyant enough to embark on the journey. You can do this by presenting your most current bank statement, or a report from your bank that declares your bank assets. The requirement for considering the viability of your trip is having at least $100 available for you each day.
You will be expected to tender a letter from your boss/company (exceptions if you are a retiree) that will serve as a proof of your revenue and your level in the organization.
Switzerland is an excellent place for tourist attraction where you can discover snow-capped peaks, mountains, lakes, nice foods, good chocolates and cheese, the home of global banking, all in a beautiful country. Switzerland is a popular nation and they have everything it takes to attract visitors.
The specifications listed above in regards to Swiss passport and visa photographs are taken from the Embassy of Switzerlands official guidelines on passport and visa photos which can be found here.
Passport Photo printed in London