If you are looking to get a Syrian passport Photo or visa, then Reload Internet is the best passport photo studio for you to have your Syria passport photo taken or we can even take your visa photo for Syria printed and prepared at Reload Internet in Paddington.
We have an experienced team of staff at Reload Internet that take hundreds of passport photos every week, and one of those could be yours. You don't need an appointment with us, just pop by our store and we can have your photographs ready within 10 minutes of your arrival here! Our store is situated in Paddington, London, on the same street as both Paddington tube & train stations, making us the most accessible passport photo studio for people in London.
We stay open 7 days a week here at Reload Internet, from early in the morning until late into the evening, so you can come and visit us on a day and time that suits you to have your Syrian passport photo or visa photo captured, printed and prepared. After taking your photo, a member of our experienced staff will ensure that it meets all of the necessary criteria before printing it out. We will then cut the photographs to the correct sizing. Your Syrian passport photo will come with a guarantee to pass at the Embassy of Syria the first time you submit it along with your application.
Syrian Passport Photo
The video below shows how efficient and successful we are at producing Syrian passport and visa photos, watch it to learn more information:
If your Syrian passport photo or visa photo doesn't meet all of the specifications below, then it is very likely that the Embassy of Syria will refuse your application due to a photograph error, costing you time, money and stress. At Reload Internet we guarantee that this will not happen to your application when you have your Syrian passport photo or visa photo taken by us.
Syria Passport Photo specifications
You need to submit 4 identical photos that measure 40mm x 40mm (width and height) in size.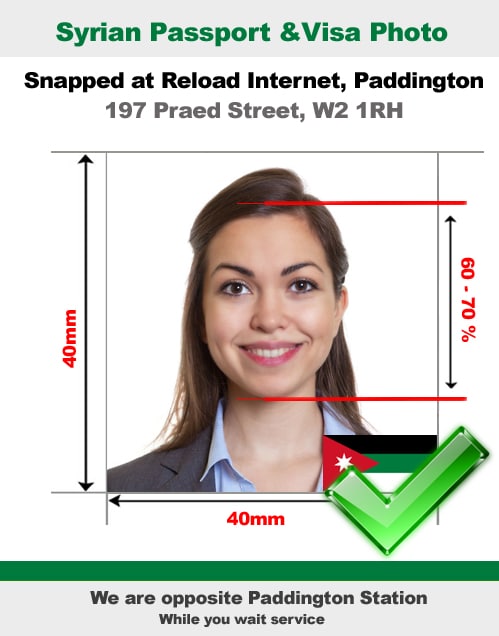 Your image needs to be of a close-up of your face, showing the top of your shoulders and your entire face from your chin to the top of your head.
The actually size of your head in these photos are not specified by Syria but the image does need to take up between 60 percent and 80 percent of the photograph (measuring between 24mm and 32mm from your chin to the top of your head).
You must be facing directly at the camera when the image is taken so that it can capture both sides of your face evenly.
This image cannot be taken portrait-style with your head turned or tilted in any direction.
It is essential that you have a neutral expression on your face for these photos.
This means that the photograph cannot depict you smiling or frowning, only with you have your natural facial expression.
You also need to make sure that your eyes are open during the photo.
Images that have you with squinting eyes or raised eyebrows will not be accepted by the officials.
Your eyes need to be completely visible in the image, which is why you are also not generally able to wear glasses in your pictures especially if they are sunglasses or just tinted eyeglasses.
Your frames could potentially block part of your eye when the picture is taken and it could also cause a reflection when the flash goes off.
If you are getting the picture of an infant, it should be taken from above while it is lying down.
You cannot have any evidence of the child being supported by any objects or people in the image.
For the most part, you are not able to have on any headwear when your photo is taken.
There are exceptions that are made for those who have religious or cultural reasons for wearing these items. If that is the case, your headwear cannot cover your face or cast a shadow on your face at all.
Once the photograph has been taken, it needs to be printed out with a print resolution of about 600 dpi at least.
You will need to have this printed out on high-quality photo paper.
You cannot digitally manipulate this photograph, using software to soften the lines on your face or remove other imperfections.
When you submit these photos, they must be in excellent condition without any creases or other damage.
Having your Syrian passport photo or visa photo taken at Reload Internet ensures that all of the criteria mentioned above are met. Your Syrian passport photo or visa photo will pass first time at the Embassy!
We receive our specifications directly from the Embassy of Syria's guidelines on passport and visa photographs.
Where to get a Syrian Passport Photo printed in London? Find us here: