Welcome to Reload Internet. We are a professional passport photo studio in Paddington, London, that can capture, print, and prepare your Vatican passport photo or visa photo instantly. We take hundreds of passport and visa photographs here every week, so we are the best place for you to come for your Vatican passport photo or visa photo. Our store is located on the same street as both Paddington train and tube stations, and stays open throughout the week from early morning until late evening. This accessibility and convenience makes us the best passport photo studio in London, as you can come and visit us on a day and time that suits you! You don't need an appointment, just visit our store and a member of our trained staff will be happy to assist you. We aim to have all of our customer's passport and visa photographs ready within 10 minutes of their arrival at our store.
Using the most recent camera and printing technology, a member of our team will capture your photograph using the correct lighting and background. We will then check the photograph to make sure it meets every single one of the specifications stated by the Apostolic Nunciature of the Holy See. Then we will print your photographs off for you instantly, and cut them to the correct sizing. When you have your Vatican passport photo or visa photo taken at Reload Internet, we charge just £9.99 for a set of 6 high-quality photographs that meet all of the specifications. This is why we can guarantee that the photographs you receive from us will pass with your application the first time you submit it to the Apostolic Nunciature of the Holy See.
Watch our video to learn more about the requirements in regards to passport and visa photographs for the Vatican, or to see how quickly we can produce yours:
If your Vatican passport photo or visa photo fails to meet any of the requirements listed below, then there is a high chance that your application will be rejected due to a photograph error. At Reload Internet we guarantee that this will not happen to your application, and that the photographs you submit will pass first time.
Vatican Passport Photo and Visa Photo specifications:
The photographs need to be 35mm x 45mm in size.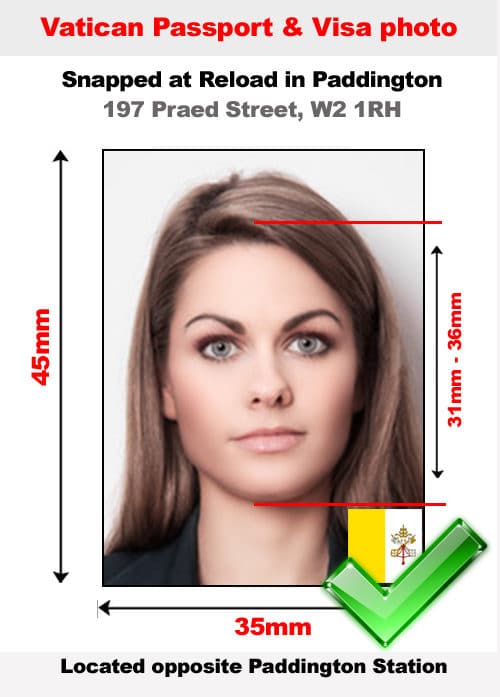 You are also able to wear a uniform for these images, something that is not often allowed.
If you have religious reasons for having headwear on, this is perfectly acceptable though it is not allowed without this exemption.
You must be directly facing the camera when your picture is being taken. This ensures that you can get a clear view of the entire face.
You cannot have your head turned or tilted when you get the image taken, as you would if you were getting a portrait done of yourself.
Your eyes need to be wide open, not squinting or with any raised eyebrows as well as having a neutral expression on your face. This means that you cannot be smiling or showing your teeth at all in your photograph.
You need to have a plain white background, without any sort of pattern or design to it.
You are not allowed to have anything else in the image along with you.
The camera needs to be at eye level of the person that it is taken a picture of.
Your eyes cannot be obscured by your eyeglasses, which can happen because of your frames or if a reflection happens when the flash goes off.
Having red eyes are also not allowed for your passport or visa images.
It is important that the face has an even amount of light on it as to prevent any shadows on your face, which could lead to the photo being rejected.
These images must be in color and have a sharp contrast that will display your natural skin tone.
If you submit these images digitally, you will have the same requirements as you would if you sent in the printed images. These images should also be 300 dpi in a JPG file.
The back of the photos need to be left blank when you submit them. If you choose to print them out, you need to be sure that you use high-quality photo paper and that it has a print resolution of 600 dpi (at least).
You cannot manipulate the images in any way otherwise they will not be accepted.
At Reload Internet we guarantee that your Vatican passport photo or visa photo will meet all of these specifications and hence will be accepted the first time you submit it with your application.
For more information regarding the process contact the Apostolic Nunciature of the Holy See, which can be found here.
Passport Photo printed in London