Reload Internet in Paddington, London can take high quality biometric scans of your fingerprints, perfect for a passport or visa application. You can be assured that our fingerprint scanning service will always give you the best results possible with perfectly legible scans every time. What's even better is that you can come in anytime, no appointment needed.
Our fingerprint scanning service is perfect for Passport and Visa applications, especially OCI applications (which you can learn more about here). You can also use our service to scan your fingerprints for foreign professional exams, to work for a company that trades overseas or for an adoption application.
Our biometric fingerprint scanning service is the ideal companion for our passport photo service where we can take your passport photo for any country in the world, you can learn more about that service

here

. 
Fingerprint for Passport
If your passport application requires you to upload fingerprints do not worry, we can handle this for you. Our fingerprint scanner in store can take high quality scans of your fingerprints (600 dpi) which will be suitable for any passport application.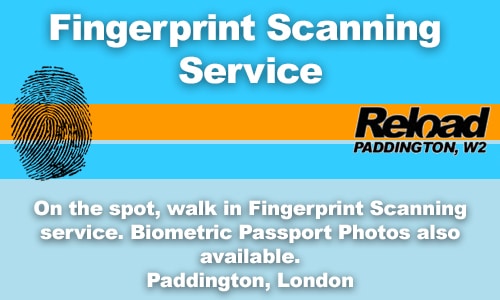 We follow all the common guidelines for taking fingerprints including:
Ensuring your fingers do not roll when taking prints.
Making sure that the prints are not smudged at all.
Avoiding any excess ink on the fingers when recording impressions.
Ensuring there are no stray marks within the prints.
We are also capable of taking entire palm prints using our scanner.
Our fingerprinting service is extremely quick and affordable you can come into our store with no need for an appointment and get your fingerprints scanned any day of the week for just £14.99!
Biometric Passport Photos
At Reload Internet, we can also take Biometric Passport Photos for any country in the world, matching any government's requirements.
You can learn more about our passport photo service here.
If you have any questions or want to learn more, you can email us at
Contact us now if you have any questions or want to learn more about our services at 

 or call us on

02072624111
Other services available at Reload:
Please click on the image to learn more.
   
   
Fingerprint Scanning Service in Central London
Visit Reload Internet in Paddington to get your fingerprints scanned for your next passport or job application. We are located just opposite Paddington Station.