Reload Internet is a professional passport photo, that specializes in Afghanistan passport photo and visa photos. If you are looking for a suitable place to have your Afghanistan passport photo or visa photo taken at, then you need to stop by Reload Internet. At our store, a skilled staff member will take your photograph and print it out for you instantly, so that you can continue with submitting your Afghanistan passport or visa application straight away. This process will only take around 10 minutes and an appointment is not necessary; just walk in and a member of staff will be happy to help you.
Get your Afghanistan Passport Photo in 2 ways
Option 1: Visit us at our store in Paddington
When you pop into our store in Paddington, we will take a photo of you while you wait.
Option 2: Afghanistan Passport photo by Post
Take a photo of yourself against a white wall at home like the image below & upload it to us, and we will post it to you with next day delivery.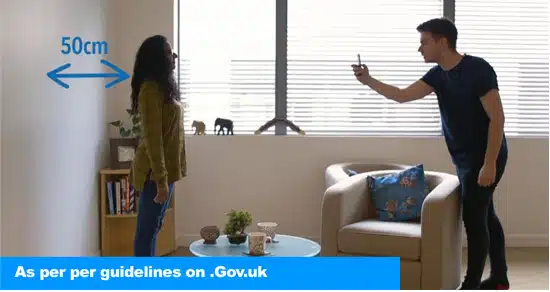 Upload your photo to us here
Alternative Upload link if you have problems above
ALTERNATIVE, UPLOAD YOUR PHOTO
We will print, cut & post your Afghanistan passport photo to you with fast delivery & to the specifications listed below
We are open seven days a week at Reload Internet, from early morning until late evening, meaning you can come and visit us to have you Afghanistan passport photo or visa photo captured and printed at a time that suits you. When you have your Afghanistan passport photo or visa photo taken at our store, it comes with a guarantee to pass at the Embassy with your application first time!
Watch our video below to learn more information regarding the requirements for Afghanistan passport and visa photographs, or to see how quickly we can produce yours: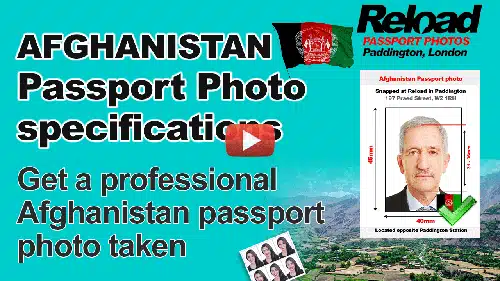 Our staff have been trained to provide you with a set of high quality photographs that meet all of the specifications stated by the Embassy of Afghanistan. Using the latest in camera and printing technology, we will ensure that your photograph is of high standard and will pass with your application before we even print it!
It is important that you Afghanistan passport photo or visa photo meets all of the requirements below. If it doesn't, then there is a high possibility that your Afghanistan passport or visa application will be rejected. This will cause delays, and may even affect your travel plans. Reload Internet can ensure that this will not happen with your application!
Afghanistan Passport Photo specifications:
For your passport, you will need to submit 2 new photos.
These photos need to be 45mm x 40mm.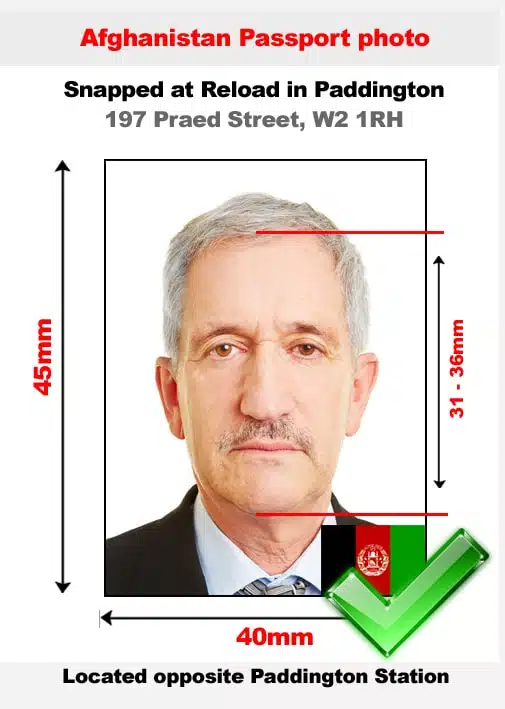 You need to remember that the background must be a plain, white background that is free of any sort of pattern.
It must be able to capture your natural skin tones with an adequate amount of contrast and brightness.
Afghanistan officials do not accept pictures that have red eye or any flash reflections.
It is required that when you get these photos taken, you will need to be looking directly at the camera so that the picture captures both sides of your face evenly.
You cannot have anything covering your eyes, including hair and headwear.
In fact, headwear is generally not accepted in these photos unless there is a religious reason for you to do so.
There cannot be any shadows in the background nor can there be any other objects or people in the photo's background.
The person who is getting their photo taken must look directly into the camera and not have their picture taken in a portrait style, where the face is tilted or turned.
This is important because the image needs to capture an equal amount of ear and cheeks on either side of your face.
Your eyes will need to be open and clearly visible otherwise the image will not be accepted.
This means that your glasses frames cannot cover your eyes as well as you cannot have a reflection or any headwear covering your eyes.
This includes the fact that you are not allowed to wear any glasses that are tinted or sunglasses, as these will also obscure your eyes.
After the photograph has been taken, it needs to be printed out on high-quality photo paper.
The print resolution must be at least 600 dpi, something that is especially important if your image was captured with a digital camera.
The submitted photos cannot be digitally altered in any way otherwise they will not be accepted by officials.
It is also important that the images that you have submitted are not creased nor have any other damage to them, which would also cause the application to be rejected.
Afghanistan Visa Photo specifications:
For the most part, the visa will hold the same requirements as the passport in regards to the photos. The only real difference is that the visa photo will need to be 35mm x 45mm.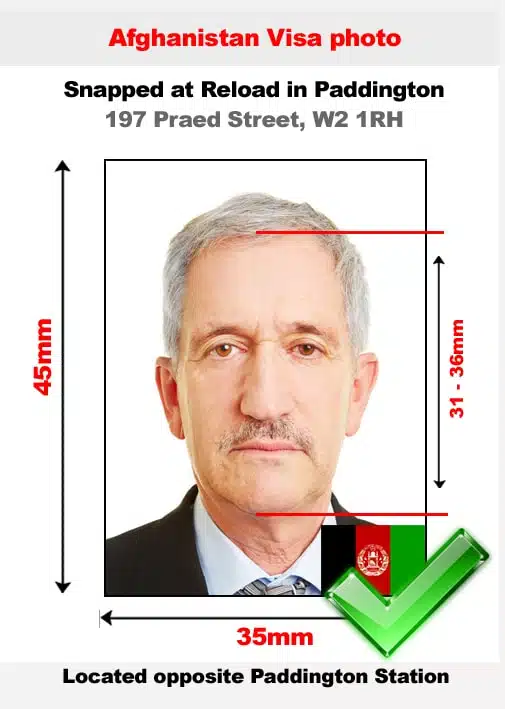 If your visit Reload Internet for your Afghanistan passport photo or visa photo, we guarantee that the photographs you receive will meet all of the requirements above, and will pass at the Embassy of Afghanistan along with your passport or visa application.
We receive our specifications from the Embassy of Afghanistan's guidelines on passport and visa photographs, which can be found here.
Afghanistan Passport Photo
OPTION 1 – Visit us in Paddington
Just walk into our store and let our experienced staff take your photo. It will not take more than 5 minutes.
We will take your photo with professional lighting.
We will print, prepare & cut your Afghanistan passport photo.
No appointment needed.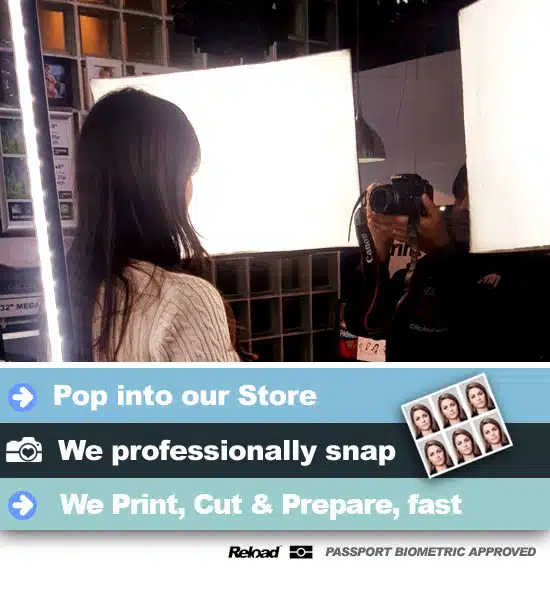 OPTION 2 – Passport photo posted
We can post you a set of 6 Afghanistan Passport photos – next day delivery. How it works:
Email us a photo of yourself from your phone or camera.
We will look at your photo, free of charge
We will reply to confirm.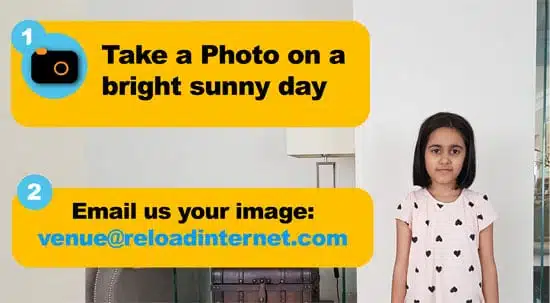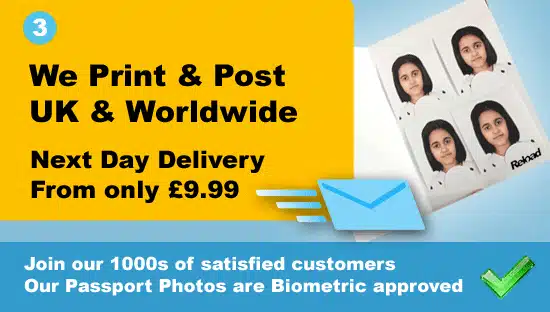 We will print, cut and post your your Afghanistan passport photos
Next day delivery
We post your photos anywhere in the UK or worldwide.
OPTION 3 – Digital Photo resize
Send us your photo from your phone or camera whilst you are standing against a wall in your home
We will look at it free of charge.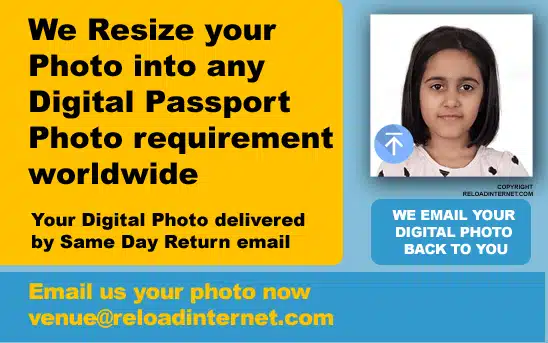 3. We will email your resized images back to you same day.
4. Your digital Afghanistan passport photo will be ready to upload to the online Afghanistan passport service.
You do not need to worry about the regulations, we have dealt with thousands of satisfied customers and are very experienced.
So why wait? Email us your photo today and we will resize it digitally for you