We are a Passport photo studio based in Paddington, London that can take your New Zealand Passport photo for Kiwis or New Zealanders. We take New Zealand passport photos and New Zealand Visa photos in our store and our fully trained staff will photograph you with the right lighting and the correct background that the New Zealand Government require.
We can print and prepare your New Zealand passport and visa photos while you wait in our store with no appointment needed.
Our late opening times means that you can also visit us 7 days a week and we close at 10pm even on a Sunday. We charge £9.99 for a set of 6 photos and this includes a money back guarantee should your passport fail in the embassy.
Best of all, we are now equipped to handle New Zealand Digital Passport photos and have the software in store to correctly measure the requirements for New Zealand Digital images as specified at the NZ Identity and passports website, and we even take the time to ensure that it will pass the upload requirements before you leave our store. Watch the video on how efficient we are with New Zealand passport photos.
New Zealand Passport photo specifications
if you are a Kiwi or a New Zealander applying for a new, New Zealand passport, than the passport photos you submit will need to meet the passport requirements for photographs as this is a main part of your New Zealand passport application – in order to confirm your identity.
You need to make sure that you can get a high quality set of photographs in order for your application to be accepted and sometimes instant photo kiosks will not be able to meet these standards. We have had countless customers that have been declined visit us to get the right specifications of a New Zealand passport photo
Choosing Reload Internet to get your New Zealand passport photos can help you avoid delays with your application. You need to make sure that you have clear photographs that can be used to easily identify who you are across the borders.
Your photo needs to be less than 6 months old and it must be clear in focus with no red eye or reflections that can affect the overall quality of the image of you. You need to have a clear complexion on the photographs with no excessive use of makeup or anything that could cover the face.
The actual background to the image needs to be plain and light (an off white) rather than just a white background which may cause reflections.
You need to also make sure that you are facing the camera straight on and that you have a straight face with no excessive smiles or grins. Your face must be very clear and visible overall.
Your glasses should be removed as well as any other fashion accessories that could distract from the photo such as a headband or cap.
The quality of the actual photograph should be good with a high print finish. It is best not to use matt paper or an ink jet printer as the quality is not often as good as you may get from a photo booth. In Reload Internet we have the latest New Zealand Embassy approved printing machines that include Fuji and Mitsubishi as well as Canon Cameras to get it right first time around.
The actual size of the photo needs to be 35mm x 45mm and with an 80% coverage of the face.
New Zealand Digital Passport Photo specifications
if you are looking for a fast efficient way to get your New Zealand passport photo taken in a digital format for upload to the New Zealand, then look no further then Reload Internet. We can take your new Digital New Zealand passport photo for £9.99 and we will ensure that it meets the following strict specifications:
We will always ensure that the correct lighting is used so there are no background shadows and we will ask you to stand about half a metre from the background so that there are now shadows.
We will use a plain, light coloured background that is not white – as a white background reflects light forward
We will always leave a gap around your head and your New Zealand Digital passport image will show part of your shoulders.
Eyes will be in full view.
In case you wear glasses, New Zealand digital passport photos do allow you to wear glasses but the rims of the glasses cannot hide part of your eyes. The staff at Reload Internet will ensure that there is no glare from your glasses.
The New Zealand digital image that we provide you will show your face with a neutral expression (not smiling) and we will direct you vocally when taking your photo so this process happens naturally.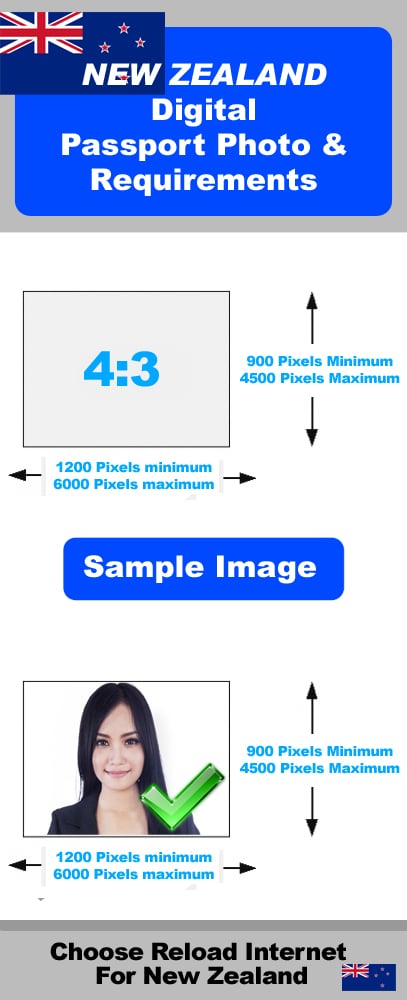 New Zealand Digital Passport Photo Image requirements
The File type of your New Zealand Digital Passport Image must be in JPG or .JPEG
The File size must be between 250KB to 10MB – Anything else will be rejected.
The aspect ratio of the Digital New Zealand passport photo must be in 4:3
The Pixel size of the New Zealand Photo image must be no less than 1200 wide by 900 high or no greater than 6000 wide by 4500 high
Applying for a New Zealand Passport
You can check to see if you are eligible to apply for a passport in New Zealand. There is an online tool available on the New Zealand Government website
If you have never had a passport that has been issued in New Zealand then you can apply for your first passport online using the eligibility checker as mentioned above. You may prefer to complete and application form and send it by post instead.
If you live in New Zealand as a New Zealander then you have to have been born before 1st January 2006. For children that were born after the 1st January 2006 then they are only classed as a New Zealand citizen if their parents were a citizen or permanent resident of New Zealand at the time of their birth.
If you were born in another country then you will have received a certificate for citizenship. You need to confirm this before you apply for a passport.
You can also apply for a Certificate to confirm your identity if you are unable to obtain a passport from your original country of citizenship. This can then be used to confirm immigration to New Zealand as the holder of this documents can leave an re-enter the country for up to 5 years although expiry dates may apply otherwise.
You can renew your passport online and this can usually be issued within 10 days of the application. There may be an option for your to have an urgent request processed for an emergency.
Directions to get your New Zealand Passport Photo snapped and printed in London
CLICK HERE TO NAVIGATE TO US ON GOOGLE MAPS
We look forward to welcoming you at Reload Internet, in Paddington, London.