If you are in need of a Mali passport photo or visa photo, then Reload Internet is the best place to come! We are a studio based in Paddington, London, that specialises in Mali passport and visa photographs, and can capture, print and prepare your photos so that they are ready for your application in less than 10 minutes! And what's more, you won't even need an appointment to have your photograph taken by us, just stop by our store and a member of our trained team will be happy to assist you. We are located on the same street as Paddington tube and train stations, making us easily accessible for people in every area of London.
Our studio stays open throughout the week, from early morning until late evening, allowing you to come and have your Mali passport photo or visa photo taken at a time that suits you! Our staff will provide you with a set of high-quality photographs at an affordable price, which come with a guarantee to pass first time at the Mali Embassy along with your application when you submit it!
Watch our video to see how quickly we can produce your Mali passport and visa photos, or to learn more information about the criteria:
You must make sure that your Mali passport photo or visa photo ticks all of the Mali Embassy's guidelines boxes, as if not there is a high chance your application will be rejected due to a photo error when you go to submit it. Reload Internet can remove any possibility of this happening if you decide to visit us!
Mali Passport Photo and Visa Photo specifications:
The photo should not be older than six months.

You will have to submit a total of three identical photographs with the dimension of 40 mm X 40 mm. Your face should be visible entirely and the top of your shoulders must be seen in a manner such that 60% to 80% of the face is seen, with the distance between your chin and forehead being 24 mm to 32 mm. All your facial features must be seen clearly in the photo and you should look straight into the camera with the orientation of your face being straight in the photo. Your face should be in the center of the photo with equal distance on both sides.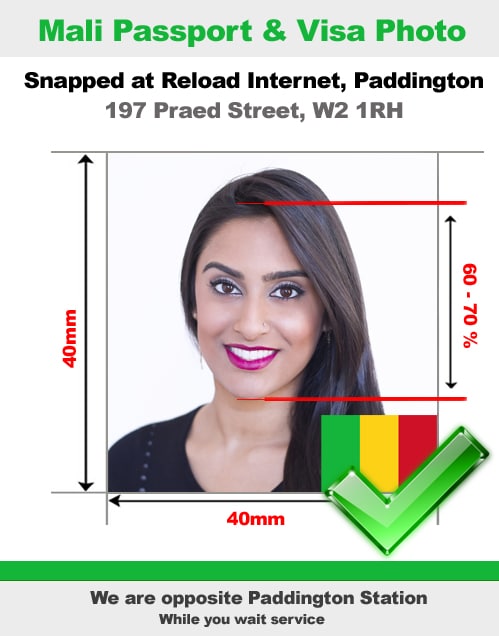 If you have thick or long hair, ensure that it does not cover your face in any manner and the hair should also be seen in the photo. Also, you should look similar to how you look now, thereby ensuring that the photo is not older than six months.

Maintain a neutral expression and do not laugh or frown. Your teeth should not be visible in the photograph and do not raise your eyebrows.

The head must be in square to the camera and in portrait orientation, the face must not be at an angle or tilted and you should be looking directly into the camera with an equal visibility of facial features on either sides of your face. Your eyes should look into the camera and the camera must be held at a level of your eyes.

Once the photo is clicked, do not try to retouch or soften in case of any creases or marks. The photograph should not be manipulated in any manner. Do not alter the tone of your skin and it should remain natural. The photos should be color photos and natural colors are to be used.

If you wear glasses, take it off while clicking the photo. Even if you wear glasses, there should not be any glare and the frame must not obstruct your eyes in any way. When you wear specs, the shadow, reflection or glare should not appear in the photo.

There are chances of rejection by Mali authorities if you wear glasses, as there are high chances of a glare in the photo. The face must be visible clearly in the photo and the glasses should not cause obstruction of any manner.
Your Mali passport photo or visa photo must meet all of the specifications listed above, otherwise it will probably be declined due to a photograph error by the Mali Embassy when you submit your application. If you have your Mali passport photo or visa photo taken by us, Reload Internet can eliminate any possibility of this happening.
Our specifications are taken from the Mali Embassy's guidelines on passport and visa photographs, which you can find here.
Passport Photo printed in London