The Ugandan High Commission have now made their visa and passport photograph requirements very strict. It is therefore extremely important that you visit a passport photo studio that is fully equipped to take produce photographs of sufficient quality – otherwise, you might find that your application ends up rejected when you submit it due to a photograph error and you may have to apply all over again. Fortunately, Reload Internet specializes in taking Ugandan passport and visa photos, and can guarantee that we will get the job done right the first time around. You don't need to book in advance to have your photo taken, just pop by our store in Paddington, London, and we can have your Ugandan passport photo or visa photo ready within 10 minutes – there's no need to come back later. Thanks to our central location and flexible opening times, it's simple for anyone to get their Uganda passport photos in no time at all. We are located on Praed Street, the same street as Paddington tube and train stations, and stay open from early in the morning until late in the evening throughout the week. We even close late at 8pm on Sundays!
When you have your Ugandan passport photo or visa photo captured at Reload Internet, it comes with a guarantee to pass first time when you submit it to the High Commission. We can guarantee this because of our process. Firstly, we will capture you photograph with the correct background and lighting. Then we will ensure that the photograph taken meets all of the necessary requirements as requested by the Ugandan High Commission's guidelines on passport and visa photographs. Only after ensuring that it will pass, will we print your photographs and then cut them to the exact sizing required so that they are ready for to submit with your application.
Watch our video to learn more about the requirements for Ugandan passport and visa photographs, and to see how efficient we are at producing them:

You must make sure that your Ugandan passport photo or visa photo meets all of the specifications listed below, as there is a high chance that if it doesn't then your application will be rejected when you submit it to the High Commission because of a photograph error. At Reload Internet we can guarantee that this will not happen to your application.
Ugandan Passport Photo and Visa Photo specifications:
You must include four identical photos with your application
The photos must measure 51mm x 51mm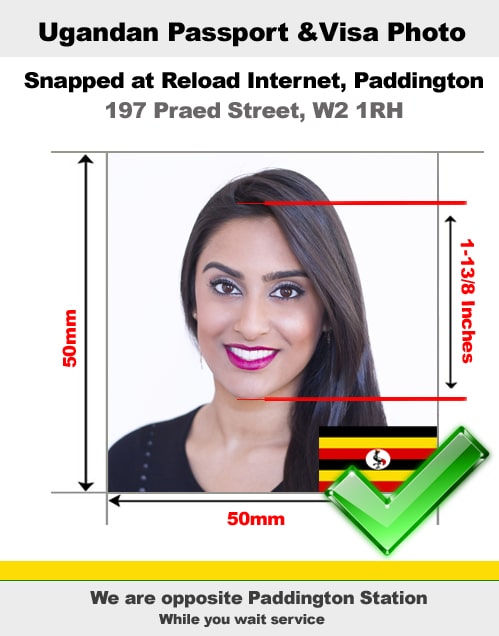 Photos need to be recent to reflect your current appearance- no older than six months
Photos cannot be mounted
You must not wear headwear in your photo
The photo needs to clearly show your full face, from crown to chin and ear to ear. You hair cannot cover any part of your face- it must be tucked back. However, the top of your hair still needs to be fully visible in the photo
Photos must be taken against a plain white background, without any pattern whatsoever. Only the applicant can be visible in the photo, and there must not be any shadows in the picture, either on your face or on the background
You must be facing the camera head-on while the photo is taken
You will need to keep your head completely level while the photo is being taken. Both sides of your face should be equally visible
You must look directly into the camera while the photo is being taken. Your eyes need to be fully open and visible- they cannot be covered by glasses frames or your hair. The camera itself needs to be positioned at eye level, so that your eyes are in the center of the photo
Babies and small children who cannot sit up by themselves should instead be photographed lying down. No other person can be visible in the photo- this includes hands used to support the baby
The photos themselves must be printed on high-quality photo paper, with no gloss on the reverse side- this is included as part of our service, and we will print the photos while you wait
With Uganda visa photos, the requirements are the same as above, except you only need to include two photos in your application
Should your Ugandan passport photo or visa photo fail to meet all of the criteria mentioned above, then it will likely be declined when you submit your application to the High Commission. To ensure that this does not happen to you, come to Reload Internet for your Ugandan passport photo or visa photo.
Our specifications are taken from the official High Commission of Uganda's guidelines on passport and visa photographs, which can be found here.
Passport Photo printed in London