CAN NOT VISIT US IN PADDINGTON? Use our Remote OCI help Service – NO VISIT REQUIRED
If you would prefer not to visit us in our company owned store in Paddington, you can use our Nationwide Remote OCI help service where we will deal with all of the OCI formalities for you, with NO NEED TO VISIT US as we will complete everything via email and post you the required paperworks.
We will also book you into your nearest VFS Center whether it be London Hounslow or London Goswell or anywhere else in the UK
Our Nationwide Remote OCI help covers the whole of the UK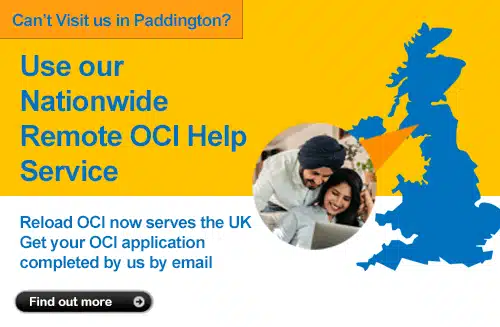 Book in Confidence. Watch the reviews from celebrities that have used Reload OCI
Please make a booking at any time that suits you to visit us at Reload OCI for our OCI Help service, Surrender Certificate help, Indian Passport Renewal or PAN Card Help service.
Reload can take care of the entire visa process for you and our prices start from £79.99 per applicant:
As soon as you make a booking with us:
We will email you a comprehensive OCI document requirement list as soon as you book an appointment to visit us.
Booking at your nearest VFS center in included
Reload offers a guaranteed pass service*
Our service includes everything that is required to obtain your OCI including your passport photos which we snap in store for you
Please call us on

02072624111

or email us at help@nullreloadinternet.com if you have any problems booking below
See our Full interview on Sunrise Radio
Why choose Reload OCI?
Established in 1998, Convenient Central London Location, GDPR Compliant
Covid 19 Safety Procedures in place
Strict procedures & highly trained professional staff to protect your data and guarantee a successful application.
HSBC Start up awards London Finalist in 2006

Do not trust imitator websites with your Passport and Personal details – we have been established for over 20 years